Building your Presentation Skills Muscles in 2016
With a new year upon us, most of us resolve to eat healthier, visit the gym, do more yoga or set other goals. 2016 also offers a chance to strengthen habits and skills for presentations during the coming year. Here are 6 easy, fun tips to take your presentation skills to the next level in 2016.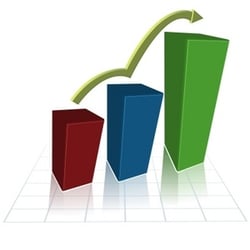 1. Analyze the Best (and expand your mind) with TED
You may already view and enjoy talks delivered by experts of all kinds on www.TED.com. But have you studied the talks specifically for presentation skills strategy? TED, which stands for Technology, Entertainment and Design, invites thought leaders to give 'the talk of a lifetime' in 18 minutes or less. For this prestigious event, TED presenters spend significant time prepping and rehearsing. Commit to a study of watching a TED talk a week, or two a month. Then take note: What are 2-3 things they did well? How did they open the talk? How did they close it? What elements of their style were strong? And, what might be one or two things they could do differently? TED makes expanding your mind enjoyable. Analyzing other presenters also helps keep your practice fresh and sharpen your own skills.
2. Peer Study
Similarly at work, catalog notes of great presenters you see. Most of us constantly attend presentations—whether company-wide or all-hands meetings, in your team, industry events, and conferences, too. You can continuously assess:
What are two things they did that were effective, in terms of content strategy, slide use, style or pacing?

Through what specific behaviors, if any, did nerves show up?

What are two upgrades they might have made?
3. Toastmasters
If you've never been to this internationally run, available-everywhere speech club, you owe your presentation skills at least one visit during 2016. Visit their website at www.toastmasters.org and click on the "Find a Club" button. Type in your zip code for work or home. Numerous options should pop up for meetings at all times and days during the week. Toastmasters meetings typically last an hour. You need to join to participate. You get to see others deliver practice talks and get quick chances to practice in a supported, jovial atmosphere. During this new year, you might resolve to visit the gym or go for a run a few times a week. Attending even one hour a month at a friendly Toastmasters meeting will build your presentation muscles—and benefit your career.
4. Work your own Neuroplasticity (aka, Daily practice)
Have you gotten feedback of a distracting behavior of your own, or know that you could strengthen a particular skill? Maybe your stance, how you stand on feet and legs, tends to be wobbly or fidgety. Then practice all the time. The Disney Corporation says to their managers, "You are on stage all the time." Borrowing from Disney's playbook, constantly monitor you stance throughout the day: as you chat with a colleague in the hall or break room…even standing in line at the grocery store! Make micro-corrections to be more stable and solid, and you work your own neuroplasticity. Our Rx? Take three weeks minimum to polish ONE style or body language element. During easy, low stress conversations with colleagues, family and friends, course correct. The payoff for you? A more solid stance (that you no longer have to think about) in your next presentation.
5. Mirror, Mirror on the Wall
Far too many presenters take the easy way out "rehearsing" an upcoming talk by merely sitting at their desk silently reviewing slides. In our book, that doesn't cut it! In this new year, would you really like to come across as more polished and relaxed? You must stand and deliver the talk aloud. We recommend practicing in front of a mirror at home, out loud. If it is a high stakes presentation, perhaps practice with colleagues in a small boardroom. The payoff is huge—you'll come across as more engaging and at ease. You'll be more focused on your content and build rapport with your audience.
6. Allies in the Mist (or Allies in the Audience)
For your actual presentation, set up an ally in the audience. Reach out to a trusted colleague ahead of time. Let them know of one element you'll be focused on during that talk next week. Perhaps you'll be focused on eliminating "um's" or other filler words. Or keeping your stance solid and stable if you'll stand to deliver. Maybe you want to focus on using more confident, bigger gestures. Just pick one element and contract with your colleague before of the event. Then during the talk, if they see your stance wobble, they can make a subtle signal you've agreed on (unnoticed by others at the meeting) to give you instant feedback to course correct in the moment, with none the wiser.
For 2016, we think a steady diet of small habits like these can be simple, enjoyable and easy to incorporate. Here's to a great year ahead, and you growing sharper, more engaging presentation skills and habits!
Related Blog Posts: The 3 Essentials of Speaking, Ensure Success by Staging a Dry Run, and Just-In-Time PowerSpeaking