We all know the challenge in today's casual, multitasking culture: Having to speak to audiences half-tuned out on devices. Keeping attention in such settings can feel like herding cats. How do you hold, or regain people's attention? What helps you capture the audience's focus for greater meeting effectiveness? We offer these tips to increase your presentation success.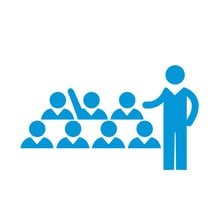 The Casual Challenge
Many clients tell us they must regularly deliver presentations while seated at meetings. The "casual" multitasking culture is a tough one. If you're sitting as the presenter, things like pausing to consult notes or take a drink can be a subtle way of getting attention back to you and your presentation.
Simply Ask
In the meeting or presentation invitation, state that it will be interactive and to come prepared to discuss "x". You set the expectation for engagement in advance. If they know this, when you ask your audience to power down, it won't come as a surprise. Get agreement on the engagement rules at the outset of the meeting — involvement with no devices.
The Magic "B" Key
Hitting the letter "B" on your laptop blanks the screen. At key points during your presentation, hit "B" as a strategic tool to create dialogue. Do so and refer back to what was stated in the invite as discussion points. It's a great way to drive interaction, and reinforce new behaviors. People aren't used to having an interaction expectation set prior, and then followed up on during the talk! Leveraging this strategy let's you influence your meeting culture. And you stand apart from the crowd.
Question Prompts – Visual Hook to Re-engage
Having a slide that poses a question or prompts discussion or a check in is another way to re-engage people and get them to look up.
Style Tips
Style strategies also help engage people's attention. Pausing allows you to consult notes, take a drink or hit the "B" key and capture their focus again. And how is your own vocal energy? Are you going monotone and flat? Leverage what psychologists call "emotional transference" instead. If your vocal energy is strong and enthused, then you drive more engagement and interest in others. This is especially critical when presenting virtually.
Name Game
This subtle tip of using names works wonders on virtual or in-person presentations. Here's how: From the first minute or two of your presentation, set in place a pattern as you move through your content. Periodically reference the names of people in the room. You aren't calling on anyone to say anything. But in a conversational manner mentioning names, you alert everyone that they need to stay engaged.
Presenting "Up" – A Caveat
If you are presenting up in the organization to decision makers, you typically must respect that the higher ups need to be on devices. You still may use the "B" key or otherwise employ pauses. Asking questions can also re-engage.
Herding cats may be impossible. But we urge you to test these strategies and be one of those speakers who does invite, and captures more of your audience's attention. Ready, set, engage!
Related Blog Posts: 6 Tips to Take Your Presentation to the Next Level in 2016, The 3 Essentials of Speaking
About the Author
PowerSpeaking, Inc.