Problem: Management requires your deck be sent prior to weekly project update meetings or planned presentations. Many leaders will be prepared with questions on specific slides. What happens, though, when someone misinterprets your slides? You lose time. You may sound defensive as you try to correct the interpretation.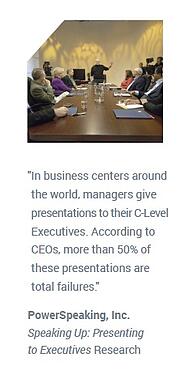 Solution:

Be proactive in advance of the meeting. Click to see a simple email template - our PREP model - that you can follow to insure successful interpretation of your communication.
Sample Email:
Here is my slide deck. To summarize:
Here is what I'm asking for: (slide 6)
Here is the reason: (slide 7)
The major points of evidence I cover to support that are: 1. logistics (slides 14-20) 2. costs (slides 22-25)
We have been told by Fortune 100 senior management that this is a very effective, practical communications template that they are implementing with their teams.
Note: In Speaking Up: Presenting to Executives we recommend using fewer slides in an actual presentation. Prior to the meeting, management often wants to see your full deck that includes your back-up / reference slides.
Related Blog Posts: 6 Strategies for Surviving Executive Presentations, Impressing the Executive Suite, The Technical Presenter's Dilemma: Presenting to Mixed Audiences,
About the Author
PowerSpeaking, Inc.