Have you noticed that when you make a presentation or give a talk, you tend to lose audience attention quickly or get challenged frequently? If you don't have a strong belief in yourself and what you have to say, your audience isn't likely to take you seriously. Through your body language and/or the way you present your content, you might be inadvertently sending a message that says, "What I have to say here is not that important."
PowerSpeaking Master Facilitator David Goad tells the story of just such a presenter:
Are you getting in the way of your audience believing you, too?
"If you believe either your content or your authority to deliver it is unworthy, that belief will manifest in several ways," David explains. "Your voice, face, and body will betray you. Your subconscious will send signals to make sure that your eye contact is limited and your gestures are closed. Your voice will not project to the back of the room and may even tremble a little."
So what's the solution?
"First you must believe from the inside that you have value to bring to your audience," David stresses. "If your content is really not ready for prime time, then get back to preparation or work with a coach to help you make it so. If you are a subject matter expert, believe you belong on that stage and can deliver a gift of knowledge that will be appreciated by your audience."
Changing your internal story will change everything. When you really believe in your value deep down, your voice, face, and body will cooperate without you even having to think about it.
How much will the audience believe and be persuaded by you next time you present? It depends on how much you believe first.
Want more tips on how to demonstrate believability?
Ready to take the next step in elevating your speaking skills? We're here to help. Register for one of our upcoming Public Workshops!
On the journey with you,The PowerSpeaking Team
ABOUT THE AUTHOR: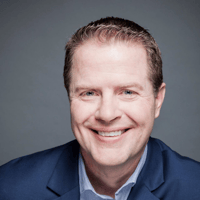 David Goad's 30+ years of experience in corporate marketing, speaking, on-camera hosting, and video production in the technology industry give him a unique coaching perspective. He helps clients communicate with clarity and confidence, and teams to collaborate with less friction.