After you've taken a workshop or engaged with a professional speaking coach, you may have improved a lot, but you will continue to fine-tune your skills as you apply them at work. Becoming a compelling presenter is a learn-by-doing process, and it's never-ending. So it's important to know how to be a good coach for yourself going forward. Fortunately, we have tools close at hand and we have some experience of what makes coaching effective. We just have to apply those to ourselves. Here are some ideas: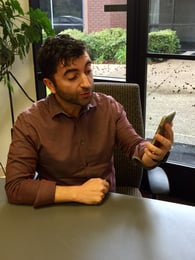 Record Yourself to Generate Content

"Talk First, Then Write" can be your preparation mantra. A fast way to figure out what you want to say is to just start talking — with a recording app on. You can send this recording to a transcription service or transcribe it yourself to get a draft you can edit. What you'll come up with are notes or even a script of language that sounds like you are talking. This draft may be far different from what you would laboriously produce by writing (and then be tempted to read). And with that conversational tone, you're more likely to capture spontaneous "quotables" — one-liners, even paragraphs, you'll want to be sure to repeat.
A couple of transcription services we use include:
The 'Ah-Ha!' Moment
Compelling stories typically have an "Ah-ha" moment, when someone in the story suddenly realizes an important truth. It might be an unexpected problem, an unusual solution, or a surprising change in perspective that carries the meaning in a business story.
Record Yourself for Feedback
There's no way to know how your audience is hearing you without hearing yourself from their perspective. That's what recording playback gives us: the audience's perspective. So make recording a frequent part of your self-coaching. Record both rehearsals and real-time presentations, at least on audio.
Video recording can also be helpful in preparation for larger events, but don't overlook the convenience and value of frequent audio recording. It is seamless in a meeting, and so easy with a simple recording app on your phone! (And you nearly always have your phone handy, right??) If you want to get analytical, there are even apps with dashboards displaying measures like the pause-to-talk ratio and vocal variety in pace and pitch.
Appreciate First, Then Critique
A good coach will first reinforce your strengths, then point out specific ways to improve. So "Appreciate first, then Critique" should be your self-coaching mantra. Don't fall into the common trap of being primarily self-critical. It's not helpful. Instead, on playback, make it a habit to scan for what you see or hear going well. That is valuable information, telling you what messaging and delivery skills you want to continue to use. Next, review the recording with a focus on specifics you would change, e.g., shorter sentences? more pauses? different structure? faster pace? — and note your plan for improvement going forward.
Think in the Listener's Mindset
Of course, in preparing your talk, you have considered the interests and needs of your audience, including perhaps their background knowledge and biases. Try to do the same with your audio or video feedback. Imagine yourself as one or more of your listeners. You will gain insight into how you can explain things more clearly to them, and how you can keep them engaged.
Also, ask yourself: Would this audience give me a break if I made a mistake? Or maybe not even notice if I said a few "ums"? Most listeners are more forgiving of us than we can be with ourselves. Most are expecting clarity and conviction, but not perfection.
Just Keep Going
Your ability to communicate what you know by speaking will do more to expand your influence than any other skillset you could choose to master. There's a lot to it, the skills take time to polish, and there is always something new to try. Stated simply: consider learning to be a compelling presenter and get yourself a good coach: you.
Related Blog Posts: Techniques from the Stage: Actors' Advice to Presenters, The Perils of Adrenalin: 35 Proven Strategies of Turning Anxiety Into Positive Energy, 10 Tips On Confident, Credible Delivery
About the Author
PowerSpeaking, Inc.