Women who are powerful, inspiring speakers have a way of employing what we call the "3 Cs" of effective communication: clarity, confidence, and courage. For some, the journey to mastering those 3 Cs has meant learning to overcome the most common language habits that tend to undermine women's credibility in the workplace.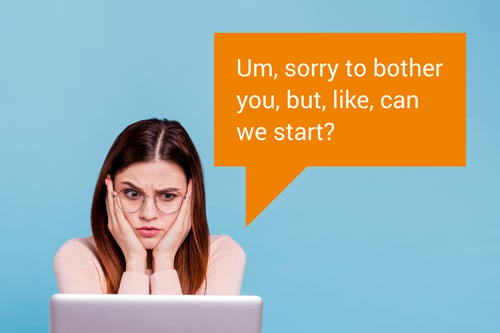 We call these habits "talk traps." In our Confident Speaking for Women virtual workshops, we show women how to recognize and avoid them. Here are a few examples:
Hedging: So often, in an effort to be inclusive (or inoffensive), women front-load their statements with uncertainty. "I'm not sure, but I think our next steps should be . . ." If you have an opinion about what the next steps should be but you want to get buy-in, a stronger statement would be, "I recommend the following next steps. Let's talk about them."
Turning statements into questions: This is the sing-song lilt at the end of a sentence that makes a statement sound like a question. "I am proposing that we need to advance the project this quarter?" Yvonne Lin Liu, MD, MS, and medical director at Genentech, says, "People don't know if you're actually telling them something or asking them something. If you're the one delivering a message, then you need to be the one delivering the message, not the one who is perpetually asking the question that never ends."
Qualifying or apologizing: CEO of Courageous Leadership Institute Cindy Solomon describes it this way: "Women, from a communications perspective, tend to put a lot of words around an idea or a thought. And we do what I call throat clearing: 'I'm sorry,' 'Excuse me,' 'Do you mind?'" A few examples: "Now, I've only just gotten a start on this, and it's probably not exactly what we want to do, but here's my proposal." Or, "I'm so sorry I didn't think of this before, but…" Best practice: Learn to own and be confident in your work, your opinions, and your ideas—and then let it show in your language.
We all want to be respected and successful in our work lives. One way to accomplish these goals is to communicate with clarity, confidence, and courage. So, build your credibility and your ability to inspire others by avoiding talk traps that get in the way.
On the journey with you,
The PowerSpeaking Team
Upcoming Confident Speaking for Women offerings:
Complimentary 1-hour webinar:
April 14, 2020, 8:30 a.m. PST/ 4:30 p.m. BST / 5:30 p.m. CET
Full, virtual workshop: May 15, 2020, 9:00 a.m. to 12 p.m. PST.
About the Author
PowerSpeaking, Inc.