Contributed for PowerSpeaking, Inc. by Susan Almazol
In the midst of my grief a few years ago, I faced the daunting task of crafting a eulogy for an extraordinary advocate of justice, Trina Grillo, my best friend for 27 years. Just the year before, her peers had named her the Outstanding Law Professor of the Year.
As the only speaker, I felt an enormous obligation to her family to tell her story well.
Today's demographics almost guarantee that we will all someday need to write a memorial tribute of some sort. For me personally, as I crafted the eulogy, I cried, and I laughed. I also learned some important lessons.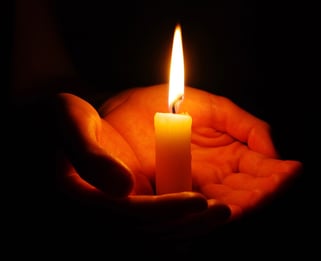 Here are five key lessons for writing a memorable tribute.
First, keep yourself out of it. This may seem strange advice at first. What I discovered, though, is that I began writing about me — my grief and my reactions and experiences related to her illness. I decided instead to reach out, to comfort as well as to honor. So I reworked my "I" sentences, and the eulogy became concise and focused. For example, "I was amazed by the tremendous outpouring..." became "Trina was touched and amazed — we were all amazed — by the tremendous outpouring of love and support from scores of people claiming her in friendship, when she was finally and correctly diagnosed with Hodgkins Disease six years ago. All you friends arranged carpools back and forth from Oakland to Palo Alto, opened up your homes, raised money, and even offered your housekeeper."

Lesson #1:

Locate "I" sentences, using the search function of your word processor. Delete or rewrite them.

Second, speak honestly and pay attention to rhythm. Early on, I decided to include both accomplishments and disappointments. I organized the flow so that our emotions would get some relief. Funny anecdotes helped but, surprisingly, so did tough glimpses of my friend's six-year battle with cancer. Here's an example of the latter, which elicited some chuckles: "Trina never held any grudges, but she couldn't quite forgive Paul for leaving this earth so abruptly, especially when she needed him so desperately these past few weeks. But I imagine she's already tracked him down, given him quite another earful, and he's comforting her now."

Lesson #2:

Include a balanced look at the person's life. Relieve tension with anecdotes.

Third, reach out to all your listeners. Since Trina made new friends even in the last few weeks, I wanted to make them feel part of us. But I didn't want to recite key events in her life that, of course, her family and longtime friends were familiar with. I ended up weaving background details into the stories I told. Here's what I said about her law school selection: "Her decision to attend Minnesota for personal reasons, left Stanford and other top law schools aghast. She was brilliant, a jewel they had pursued and lost." Here's another example with details about where she lived in her earlier years: "One day, we were idly praising the Hollywood movie of the month. Trina, newest member of the group, sat still as long as she could and then weighed in with her comments. Her growing up here in Oakland and two years at Radcliffe fueled her stinging, class-based analysis and denunciation of the movie." To comfort and include her close friends, I quoted them: "Catharine, her friend, colleague, and confidante, recalled at another occasion that, in the 1960s, Trina stopped troop trains in Oakland by standing on the tracks."

Lesson #3:

Weave background information into the stories you tell so that the newest friends feel included.
Make long-time friends and colleagues part of your tribute by quoting them.
Write possible add-on sentences on Post-it Notes along the edge of note cards, in case you need them.

Fourth, don't try to be eloquent. When I began writing the eulogy, I found myself wanting to sound lofty. When I resisted this urge and wrote from my heart, the writing became faster and easier. Then I stumbled across a simple technique that added eloquence after all. When I substituted "and" for "but," my sentences sounded more elegant; for example, "But she was never bitter," became, " And she was never bitter." In another place, I wrote: " And she never said an unkind word to me in all the years of our friendship."

Lesson #4:

Replace "but" with "and."

Fifth, get personal. Finally, I finished my eulogy, and I put it away. I went to bed feeling drained but slept restlessly. Waking up very early the next morning, I went directly to my computer. What poured quickly out of me was an entirely new section that addressed family members by name and shared something Trina had lovingly said about them. A writer later said she had never heard the "direct address" used before at a funeral service. I didn't know there was a name for what I did. I like to think instead that I simply wrote down what Trina whispered to me during the night. I closed by speaking to her directly: "So, Trina, on behalf of your family and friends, I thank you, I salute you for your brilliant mind, for your enlightened scholarship, for your passion for and commitment to justice, for your nurturing of others, for your generosity, for your moral leadership, for your patience and understanding, for your spirituality, for your deep devotion to your family, for your truth, and for your uncritical acceptance and love. "On behalf of your family and friends, dearest Trina, I say good-bye. On behalf of your family and friends, Sweetie, Honey, I say I love you, I love you, I love you."

Lesson #5: Address

people directly
To learn more about Susan Almazol, CLICK HERE to visit her website.
Related Blog Post: The Memorial Service