Springtime means academic graduations, and wedding season around the corner. You may have an opportunity to toast a young graduate in your life, or fete newlyweds about to embark on the adventure of married life. Toasts are a succinct way to express emotion or a point of view during a special occasion. Sadly, many toast-givers don't plan or deliver their best, failing to make the grad or bride and groom shine. Follow these strategies for impactful and engaging toasts they'll remember: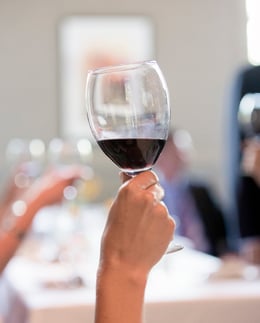 Plan Ahead
We can't stress enough: avoid the 'scribbled on a cocktail napkin' approach. You'll end up with an unfocused, rambling toast that lacks punch. Milestone events celebrating loved ones merit reflection and planning ahead. Ensure an engaging toast by doing a 'dry run' and practicing the toast beforehand.
Nuts and Bolts (or, Provide a Road Map)
Your toast should include a greeting and a brief introduction if not everyone knows who you are, the statement of purpose ("We're here to celebrate…"), and the sentiment or point of view. (Another reason to give an intro statement is because these events are often filmed for posterity.) Assure your first line hooks them in, and your last line lingers in their minds. From here, you can get creative. Keep it brief, 1-3 minutes or less, to keep guests engaged. Ramble on and on—and you'll have guests mentally searching for the exit.
Get Creative
Audiences love memorable toasts. Be a storyteller and paint visual pictures for guests, with an anecdote that captures the new grad or newlyweds in a favorable light. Don't try too hard for a laugh—sincerity usually trumps comedic attempts if you don't have a natural humorous style. Another option: Perhaps use a memorable or powerful quote by someone famous to add color and help make the point of your toast. Above all, the toast should not focus on you, but on the guest(s) of honor you are celebrating.
For the Graduate
This is your chance to celebrate their unique accomplishments. Mention their accomplishments first—whether good grades, club participation, community involvement, or sports. Be sure to talk about their future, another chance to celebrate their plans, whether college, a job, or adventures around the globe.
Wedding Tips
Don't embarrass the honorees or be 'the revealer' sharing personal or confidential information. Avoid jokes, politics, and "inside jokes" that most won't understand. Before your toast, minimizing your alcohol intake is advisable. If there is an organizer/wedding planner, find out if there is an order to the toasts. Usually if you are the best man you should go first followed by the maid of honor. Find out if there are expectations for family members, bridal party, and guests to provide toasts. The more toasts there are, the more critical it is to keep it short and memorable.
Style Footnote
Ideally, you should stand to give your toast if you are able. Be sure to project your voice and distribute eye contact to the honoree/s and different people the room. Big gestures help convey your confidence and let you engage the room. If using a mic, avoid the awkward equipment moment by checking the mic functioning way before your toast. Want to get rid of the nerves? Rehearsing out loud well before the event greatly reduces the butterflies. Putting your focus and intention on celebrating the guests of honor helps to eliminate nervousness.
Delivering an engaging, focused, and heart-felt toast is one of the best gifts you can give the newly minted grad or newlyweds. Take time ahead, try our strategies, and make a special life event that much more memorable. We are already toasting your success.
Related Blog Posts: Top 5 Tips For Successful Holiday Toasts