When it comes to getting the workplace training you need in the future, will Charlie the Chat Bot be your new best friend? PowerSpeaking Master Facilitator Angella Nelle shares her perspectives after attending a recent annual conference of instructional design and training professionals.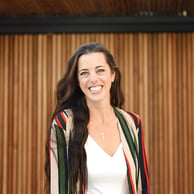 Angela Nelle, Master Facilitator
Q: What's on the horizon for corporate training?
A: Technology is big. Things like AI, virtual reality, and chat bots are hot topics as delivery methods. It's all pretty exciting, but one of my favorite takeaways from the conference was Elliott Masie's message, cautioning learning and development professionals to employ new technology wisely.
Q: Talk more about that, and for our readers, explain who Elliott Masie is.
A: Elliott Masie is a well-known expert and author in the training and development field. He's a futuristic thinker, so sometimes he's pretty provocative. His main message was, just because some cool, new technology is out there, and there's a big buzz about it, that doesn't mean it makes sense for you to use it.
Q: Does that mean there's still a place for good old-fashioned, in-person workshops?
A: Absolutely. That topic was definitely discussed at the conference, and the consensus still is, you can learn specific skills by using video and other tech methods, but behavioral changes that last typically happen in an in-person environment. Participants still value that.
Q: Give a specific example of a behavioral change that occurs in PowerSpeaking's presentation skills workshops.
A: A simple one is learning to gesture effectively when you're speaking. Most people literally don't know what to do with their hands when they're nervous and presenting in front of a group. We often use one-on-one videotaped coaching sessions in the workshop, and when people see themselves improve on camera over the course of the session, it creates a behavioral change that sticks.
Another example is learning how to change your mindset when presenting to certain audiences. Take presenting to C-level executives. To be successful, you need to learn to think like they do. They come from a very different perspective than most employees, so you literally have to learn to get inside their head and speak their language. That's the reason we developed Speaking Up, a workshop that focuses on presenting to executives. When people have the opportunity to actually practice this new mindset live, and get feedback from participants in the room and facilitators, they see the value.
Q: With that said, when is high-tech learning a good option, as it applies to public speaking and presentation skills?
A: A perfect example is when someone wants a quick refresher of something they've recently learned in a workshop. Say you just took our HighTechSpeaking course and you want to listen again to the part about how to speak to an audience with mixed technical expertise. You can select one of our Plus Video Library sessions for a 3- to 7-minute refresher on that topic.
Q: Any examples of future-tech that PowerSpeaking clients can use?
A: One idea I got from the conference is recommending to our clients, select apps that compliment what we do. I saw two cool ones for your mobile device: one that can help you overcome nervousness before a speech, and one that can instantly translate languages. How valuable is that!
Interested in learning more about our workshops? Call us at 650-631-8459 or 800-828-1909; email us at coordinator@powerspeaking.com, or visit us at www.powerspeaking.com.
On the journey with you . . .
The PowerSpeaking Team
About the Author
PowerSpeaking, Inc.