Minutes before political commentator Jon Stewart took his seat in front of the House Judiciary Committee to advocate for extending the 9/11 Victim Compensation Fund, 9/11 first responder John Feal took Jon's prepared script away from him. Feal, who knew Stewart well because of their longtime activism on behalf of 9/11 first responders, had lost part of his left foot working as a demolition supervisor at Ground Zero. In the past 15 years Feal had organized more than 250 trips like this to D.C. to fight for continuing the fund. And here they were again. Feal wanted Stewart to do what he does best: speak from the heart.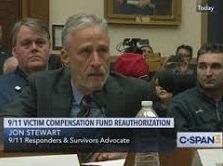 "I took Jon's testimony away from him before that hearing started," Feal said in an interview with NPR. "You know, Jon's at his best when he's articulating our pain and suffering and agony. . . And if Jon would've read that statement, we wouldn't be here talking today."
Indeed. Between Stewart's impassioned testimony and that of cancer-stricken 9/11 first responder Luis Alvarez, the committee unanimously voted to send the bill to the House floor.
The issue of health care for 9/11 responders itself commands—or should command—the rapt attention of any audience. But like so many other things in life, it often takes a powerful, authentic orator to grab people's attention and move them to action. So, what was it about the way Stewart and Alvarez spoke about their message that moved people so?
Authenticity and passion. Both Stewart and Alvarez spoke with a raw, candid authenticity and passion about their cause. To be heard, and to be persuasive, all speakers and presenters need to make a genuine connection with their audience. There's no quicker way to do that than by letting people see you genuinely care about your topic or idea, and its relevance to them. Stewart spoke with an urgent eloquence when describing why everyone should still care about the 9/11 first responders. Referring to the attack, he said, "These men and women, and their response to it, is what brought our country back. It's what gave a reeling nation a solid foundation to stand back upon."
While business talks and presentations rarely deal with such heart-rending, disaster-related issues, there's often still a lot at stake. Whether it's a company's future, people's jobs, or ideas that might change industries and lives, there's usually a place for a passionate case to be made.
A message steeped in facts. Passion without substance, without concrete facts or images to make a point, rarely persuades people to buy in. Even without his prepared script, Stewart illustrated his message with poignant facts. From the "eighteen years" the first responders have been pushing to keep the fund, to the "343 prayer cards" his dear friend and deceased first responder Ray Pfeifer kept as a reminder of the firefighters lost, Stewart made vivid their long, poignant fight.
Metaphors that shine a light. "I can't help but think what an incredible metaphor this room is for the entire process that getting health care and benefits for 9/11 first responders has come to," Stewart said. "Behind me, a filled room of 9/11 first responders. And in front of me, a nearly empty Congress. Sick and dying, they brought themselves down here to speak—to no one. Shameful. . ." The power of apt metaphors, analogies, and stories with vivid imagery can't be overstated. They help people better "see" and understand your point.
Repetition that drives home a message. All speakers would like to think that people will pay attention and "get" their message the first time, but that's just not the case. To make yourself heard and to have a lasting impact, repeat your most important points.
Three times during his talk, Alvarez made the point that he was testifying the day before his 69th round of chemotherapy for colorectal cancer caused by his work at Ground Zero. "Yeah, you heard that right," he said twice. And Stewart repeated a fact that got to the heart of his message to Congress. "The official FDNY response time to 9/11 was five seconds. Five seconds! That's how long it took FDNY, NYPD, Port Authority, EMS, to respond to an urgent need by the public. Five seconds." And here was the way he closed his speech: "They responded in five seconds. They did their jobs. Courage, grace, tenacity—humility. Eighteen years later, DO YOURS!"
A strong call for action. "This fund is not a ticket to paradise," Alvarez said in closing. "It is there to provide for our families when we can't. Nothin' more. You all said you would never forget. Well, I'm here to make sure that you don't."
Reinforcing your essential message and being clear about what you are asking from your audience is the most powerful way to close a talk.
Take the time to look at these two powerful speeches. Then, tell us what you think made those talks so powerful.
To develop your public speaking and presentation skills, check out our upcoming courses: https://www.powerspeaking.com/register/. To contact us, call 650-631-8459 or 800-928-1909, or email coordinator@powerspeaking.com.
On the journey with you . . .
The PowerSpeaking Team
About the Author
PowerSpeaking, Inc.