We've heard horror stories, and we've heard success stories when it comes to people delivering high-stakes, often technical, sometimes career-making (or breaking) presentations at conferences, conventions, and tradeshows. And that's why we're proud to have witnessed hundreds of successful presentations made by professionals who have taken the ConferenceSpeaking™ journey with us. Our two master facilitators talk about the program, describe what participants gain, and offer stories about dramatic improvements they've seen. Read on . . .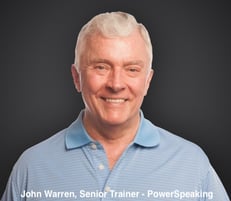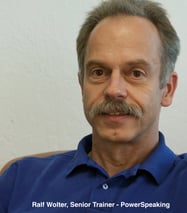 What kind of speaking environments are ConferenceSpeaking participants preparing for, and how do you help them?
John: Mostly technical presentations, breakouts, panel discussions, hands-on labs and demonstrations, and seminars. Sometimes they're presenting to small groups, sometimes very large. We've worked with large, global, high-tech corporations on their annual users' conferences, where a presenter might speak to an audience of hundreds or several thousand.
Ralf: For conference breakout sessions, you have a subject matter expert on stage who delivers lots of detailed technical information. Engineers and technical professionals aren't typically known for engaging presentations, so in the workshop, we show them how to make the content come alive for the audience. In preparing for team presentations the challenge is to create a flow and a smooth handover among presenters. It's critical that they work together, rehearse together, so we help them do that. For moderated panel discussions, we talk about how to manage the interactions, ensuring there is balanced air time among the various presenters.
At a tradeshow, presenters are in a little booth, in a very noisy environment, and have just minutes to convince people to stay for more information. We show them how to engage people in that unique environment.
What is the content of the virtual ConferenceSpeaking course and how is it structured?
John: We teach participants how to build content with the audience in mind; how to deliver dense, technical information in a more engaging way; how to deal with resistance or skepticism; and how to handle Q and A sessions.
We offer a two-hour and an eight-hour virtual version of ConferenceSpeaking. In the two-hour program—including two, one-hour modules—we focus on giving them presenting tips and best practices, and we demonstrate things like effective gestures. We also talk about how best to manage Q and A sessions. During the virtual workshop we have a chat window open so participants can ask questions.
The eight-hour program is much more interactive. The four, one-hour modules cover substance, style, Q and A sessions, and a great module on slide design. The typical slide is so dense you need a microscope to read it! We show them the research about effective slide design, then show them before-and-after slides for illustration. Then we give them time during the class to find a good slide that represents the research we just shared, or a lousy slide and redo it. We have developed a really wonderful library of these slide makeovers!
In all four modules of the eight-hour ConferenceSpeaking workshop, participants have their web cameras on, so that for every strategy we give them, they practice live. We give them a lot of feedback, as well as the opportunity to sign up for one-on-one private coaching.
Ralf: Yes, that's an important point. We start in the virtual world with this training, but we don't stop there. We offer optional virtual one-on-one coaching and in-person coaching.
So, after the ConferenceSpeaking virtual training, you actually attend the conference or trade show and give them onsite coaching?
Ralf: Yes. Speakers can sign up for a one-hour private session we conduct in a dedicated room, where we set up video cameras. It's not so much about tweaking their content, because they're about to go on stage. It's more focused on giving them tips about their delivery style so they can look as confident as the content they're presenting.
What are the key benefits of virtual training for conference speakers?
John: The value of a virtual course is that we can include more speakers in more countries in a short amount of time, so they can get the tips and training they need in advance of the conference. We might give them the option of two different time slots for the training, because in any given conference you've got presenters coming from all over the world. And because we have a growing team of international facilitators, we are conscious of international differences, so we weave those into the training and demonstrations we do.
Ralf: Absolutely. I'm from Europe, and I like to stress to people that just because PowerSpeaking is a U.S.-based company, that doesn't mean we use a one-size-fits-all approach to our training. The reality is, we adjust to the culture we're working with.
ConferenceSpeaking is a long-term investment in training, then.
John: Yes, especially when you consider the arc of resources participants have available to them. First, there are the virtual training sessions, with the options of one-on-one coaching afterward, and onsite at the conference. Then of course, PowerSpeaking developed the Plus-Microlearning video library, which is a series of bite-sized refresher courses they can use to reinforce specific skills they learned in the ConferenceSpeaking virtual program.
# # #
PowerSpeaking, Inc. teaches these powerful techniques and more in all of our workshops. Sign up for any of our programs and you'll learn how to be a speaker people listen to. Register two or more people for any of the courses below by responding to this blog and you will receive a 10% DISCOUNT:
ConferenceSpeaking™ – for various modalities of conference presentations. December 10, 2018, (Module 1 Presentation Content Development Best Practices) 9:00am-10:00am PST (Virtual-WebEx)
January 10, 2019, (Module 2 Visual Aids Best Practices and Question Management) 9:00am-10:00am PST (Virtual-WebEx)
FastTrackSpeaking® – Effective speaking to a wide range of audiences from team meetings, conferences, to decision makers. December 12 & 13, 2019, Redwood City, CA February 26 & 27, 2019, Redwood City, CA
PowerSpeaking® – Be organized, confident and manage the dynamics of the room. January 29 & 30, 2019, Redwood City, CA March 12 & 13, 2019 , Redwood City, CA
Confident Speaking For Women – Strategies to be clear, confident, and courageous in your communications February 12, 2019 (9am –12pm), San Francisco, CA
SpeakingUp: Presenting to Decision Makers® – Strategies to effectively communicate with executives. January 15, 2019, Redwood City, CA
HighTechSpeaking® – Simplify complexity: Making high-impact technical presentations. February 26, 2019 (1-day program), Redwood City, CA
To register, respond to this blog or click here.
Please don't hesitate to contact us if you have any questions.
The PowerSpeaking, Inc. Team.