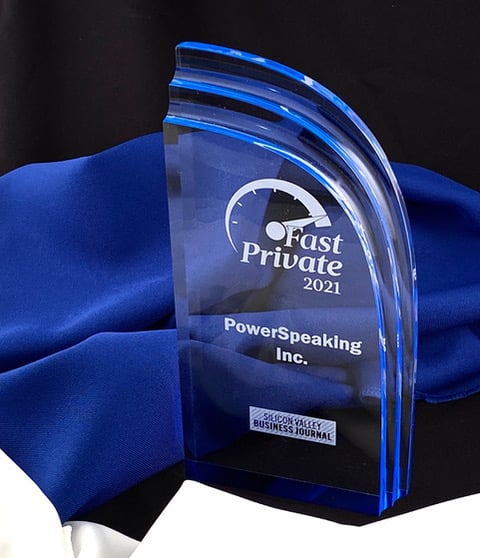 If there's one thing the past two pandemic years have taught us, it's to be grateful for what we have. Never to take our lives, our relationships, our life's work, or our good fortune for granted.
Speaking of good fortune (and yes, a lot of creative, committed, heartfelt work), I'm beyond thrilled to share our latest news: PowerSpeaking, Inc. made the Silicon Valley Business Journal's 2021 "100 Fastest-Growing Private Companies" list, ranking at number 38! The recognition was given to private companies that met or exceeded a certain earnings level for the years 2018 through 2020.
We couldn't be more proud—and grateful.
But, you might wonder, how did we do it, especially when so many other industries have been devastated by the effects of Covid 19?
In a way, we're still pinching ourselves over that one. And yet, there's no mistaking the extraordinary confluence of people, business environment, and history that brought us to where we are today.
I'd like to briefly tell you about them . . .
People
Always the place to start.
First and foremost, our long-standing customers, from biomedical and high-tech giants to a variety of smaller firms. Through the years, they continue to show us a loyalty that is humbling. Working with them is a joy. And their commitment to making sure their employees get the training they need to grow, inspires us.
Likewise, our new clients are an inspiration. Because of the nature of their businesses, their cultures, and their specific training needs, they often bring a new perspective and a unique sense of excitement to our work.
Next, the PowerSpeaking team ...
You don't make a fastest-growing list without salespeople and account managers who care deeply about what you offer, and who build client relationships that last.
Then there are our talented and passionate workshop facilitators and coaches, from the U.S. to Europe and Asia Pacific, who help individuals and teams make incredible transformations. Whether it's guiding someone from a stark terror of public speaking to confident presenting, or coaching an aspiring leader to new heights in communicating, our facilitators are the best.
And what business thrives without a talented group of "back office" people who keep the wheels turning? Customer service, business planning, workshop logistics, accounting, IT, marketing, and product development. They're all golden, and we love them.
As to specific things the PowerSpeaking team has done in the past two years that contributed most to our success? Here are a few highlights . . .
We increased our investment in technology to ensure a robust, engaging virtual learning experience.
We converted our live, in-person programs from 92% of our business to 100% virtual in March and April of 2020.
We worked with our largest customer to meet their specific needs, by becoming an extension of their small in-house training group.
We heightened our commitment to diversity, equity, and inclusion, which brought new perspectives and innovations.
We outsourced some of our support functions to allow our internal team to focus on why we're in business: to help people become better presenters and communicators.


A Changing Business Ethos
More and more, we've seen a shift in the corporate world toward a more purpose-driven, empathetic, and socially conscious way of doing business. Taking a more human, transparent approach means companies are putting even more importance on communication skills, among their leaders and within their organizations.
Salesforce is a great example of such a company. CEO Marc Benioff has said,
"Communication is probably the most essential part of my job," and "Presentation skills are key. People who work for you represent your brand.You want them to present themselves–and represent you–in a certain way." *
So, we've been fortunate to be here, doing what we do best, at a time when businesses are continuing—or just starting—to invest in elevating communication skills as part of their culture and business plan.
Our History
The day we got word about our #38 ranking on the list, PowerSpeaking President Mary McGlynn and I talked about a time when the idea of the company was just a glimmer of a dream for her partner Rick Gilbert.
"We used to take evening walks and talk about how we wanted to make a difference in the world, and how Rick wanted to start his own business," she told me. Rick took the leap from his corporate job in 1985 to start PowerSpeaking, and four years after that, Mary left her teaching job in special education to partner full-time in the young company.
The company's original business plan was written as an MBA project by Melinda Henning, who joined them as a workshop facilitator and stayed until she retired in 2020.
For the first 11 years, Mary and Rick ran their business from a bottom-floor den in their home, with help from Moira Kavanaugh, who stayed with them until 2018, when she retired as a sales executive. "In those early days," Mary told me, "we'd be working downstairs with the raucous sounds of our daughter Katy and Moira's daughter Kelly running around upstairs."
What differentiated the company from the beginning was its commitment to innovation, building strong relationships, and being flexible. Where the competition focused on delivering canned programs that weren't customizable, PowerSpeaking tailored their content and format to meet clients' specific needs.
A program participant from Adobe once said,
"Working with other vendors is transactional. Working with PowerSpeaking is transformational!"
That's always been our goal.
Here are a few milestones on the journey to making this year's "100 Fastest … " list…

Reaching our first million-dollar-revenue year, in 1996
Developing our groundbreaking HighTechSpeaking and Speaking Up: Presenting to Decision Makers programs, in 1992 and 2001, respectively
Receiving the Brandon Hall Award "Best Custom Content" for our Speaking Up: Presenting to Decision Makers program in 2011
Being named Business of the Year by ISA/The Association of Learning Providers in 2016
Developing focused workshops like Confident Speaking for Women and Powerful Storytelling, in 2017 and 2021, respectively
Being honored by the

Silicon Valley Business Journal

as one of the top Woman-Owned Businesses for 2018 and 2019
I joined PowerSpeaking in 2018.To step into a company with such a rich history, meaningful work, and talented people has, and continues to be, an honor and a joy. The respect, trust, and love we share as an extended family is amazing.
In Good Company

When I attended the virtual ceremony where the "100 Fastest …" winners were honored, I was impressed by two things. First, by how many of the honored business leaders attributed a large part of their success to their people and culture. Carol H. Williams, owner of Carol H. Williams Advertising, said it best ...
"Creating an environment where people can love each other, love themselves, and love what they do—you're going to win all of the time, then, because you consistently put out a superior product."
The importance of empathetic leadership was also a common theme among the "100 Fastest …" executives who spoke at the event. Joshua Motta, CEO of #2-ranked Coalition cybersecurity and insurance company, told us …
"Life changed very quickly for all of us. Finding ways to cope with that and finding ways to be empathetic with circumstances was useful. I had a pandemic baby, so I have a 15-month-old who helped me realize quite a bit of empathy, especially for all of the working parents."
The second thing that impressed me was how wide-ranging were the businesses who made the list. From consumer goods to architectural and software firms, the sheer diversity of businesses that are still flourishing in spite of an economy turned upside-down moved me.
I loved this insight from Michelle Pusateri, Owner of NanaJoe's Granola, about the power of connected business communities …
"I'm really optimistic about how people are starting to look local and starting to support each other and their businesses, to form alliances, talking to each other about succeeding, and lifting each other up. We're all in this together, and we have to help each other. If we don't help each other, there aren't going to be small businesses anymore."
Here are links to the "100 Fastest-Growing Private Companies" article, plus a slide show you can click through to get a feel for the impressive range of companies that made the list.
Closing Thoughts
We're big believers in building learning communities at PowerSpeaking. And so, as we look to a new year and beyond, our vision is to continue the learning journey with our clients, future clients, partners, and extended PowerSpeaking family.
We learn and grow together—and that's how it should be.
* "The Communication Skills Marc Benioff Says They Don't Teach You In Business School," Forbes, 2020. "Marc Benioff On The Essential Communication Skills Used To Build Salesforce," Carmine Gallo)
P.S. Our stories hold a mirror up to who we are, what we value, and what we dream of. In PowerSpeaking's journey from start-up to making the "100 Fastest …" this year, there have been stories galore—including those of the 350,000+ people we've trained. Let us show you how great storytelling in the workplace can drive your business, and your career, forward . . .
Join Us in Conversation . . .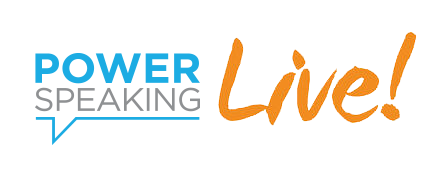 Make the Most of 1:1 Speaker Coaching
Thursday, November 16th, 2023, 9-10:00 a.m. PT/12-1:00 p.m. ET/5-6:00 p.m. BST
Sometimes, the best way to take your speaking and presenting skills to the next level is to enlist the help of an expert coach. Whether you need to improve your delivery style in general or prepare for a specific, high-stakes presentation, a more personalized approach might be just what you need.
In this LIVE! conversation we'll talk about how people can get the most value and lasting impact from 1:1 speaker coaching sessions.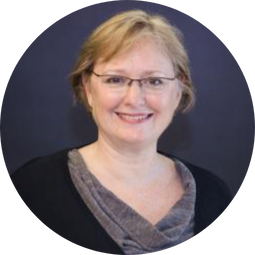 Chris Brannen
Master Facilitator and Coach, PowerSpeaking, Inc.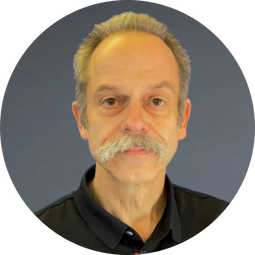 Ralf Wolter
Master Facilitator and Coach, PowerSpeaking, Inc.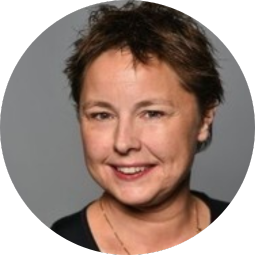 Nicole Wajer
Technical Solutions Architect, Cisco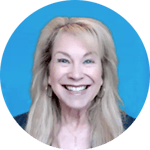 About the Author
Carrie Beckstrom
Chief Executive Officer, PowerSpeaking, Inc.
Carrie is passionate about leading the PowerSpeaking, Inc. team in helping organizations—at corporations like Genentech, eBay, Autodesk, and Gilead Sciences—develop powerful communication skills that inspire people and get results. "Our purpose is to make great people even greater at what they do every day. That includes becoming effective global communicators who build positive relationships and drive business forward." Prior to joining PowerSpeaking, Carrie enjoyed more than 30 years' experience in the learning and development industry, where she led award-winning teams.