We know she's rock a star—and so does everyone who connects with her. Recently, PowerSpeaking, Inc.'s Owner and President Mary McGlynn was awarded a prestigious and heartfelt "Spirit" award for her work with ISA/The Association of Learning Providers.
Listen to Mary's acceptance speech:
And here's a fun, quick look at Mary, by way of her ISA bio:
My Life
Childhood ambition To be a nun: Sister Mary Theresa, anyone?
First job At 13, I became a live-in maid to cook, clean, iron, waitress (for cocktail parties) for a very wealthy family (6 days/week @ $17 a week)
Inspiration Rick Gilbert (husband): He's "retired" yet is involved in the community, in a men's group, two photography groups, five one-man shows, blogs, interviews, and assists with a 91-year-old blind friend every week. May I be as involved!
Fondest memory Giving birth to our daughter at almost 42 years of age
Favorite book Can't pick one! Becoming (Obama); Where the Crawdads Sing (Owens); Educating (Westover); All the Light We Cannot See (Doerr); The Giver of Stars (Moyes)
Indulgence Reading People magazine on a weekend
Proudest moment I pinch myself: being named Company of the Year, being on the ISA Board…and the ultimate, receiving Spirit of ISA
Perfect day Sitting in a café having a conversation with a new-world friend and seeking understanding and friendship
My life It's a surprise! 1 of 10 kids, a rural farm environment, and, with an education, I've had extraordinary experiences
My profession Provides a daily opportunity to live a passionate life
The Spirit of a Company
By Carrie Beckstrom, PowerSpeaking, Inc. CEO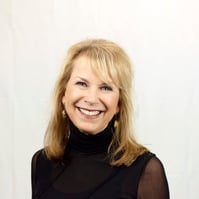 Since I joined PowerSpeaking more than two years ago, I've worked with and witnessed a team that has Mary's name all over it. The depth of the relationships among team members amazes me daily. The trust. The commitment to service. The willingness to listen and adapt (at lightning speed). The desire to connect in deeper and more creative ways with our clients, facilitators, and staff. And yes, I'm going to say it: the love.
The soul of this company, its values and its dreams—now, and moving forward—owe much to Mary. In her acceptance speech for the "Spirit of ISA" award, she talked about growing up on a farm in Wisconsin, one of 10 children born to deeply decent, salt-of-the-earth parents. She tells how her father loved to paraphrase a well-known Thoreau quote to describe a life well-lived: "I borrowed a man's axe, but I'm proud of the fact that I brought it back sharper than when I borrowed it."
Like father, like daughter. Like Mary McGlynn, like PowerSpeaking, Inc. 2.0.
We're so proud of you, Mary. Thank you for this ongoing journey.

About the Author
PowerSpeaking, Inc.