You have just been invited to speak at a major conference of your most important customers. How can you prepare and deliver an outstanding presentation for such an important audience?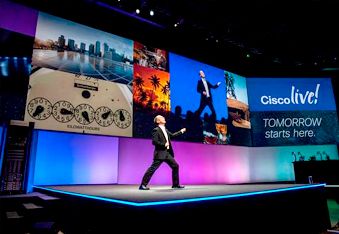 Bonny Shapira, Content and Campus Manager for CiscoLive, EMEAR, went directly to six Cisco Distinguished Speakers and asked them to share their "best practices." (To become a Distinguished Speaker an individual must rank in the top 10% of all conference speakers over multiple speaking opportunities.) We have been given permission to pass on the wisdom from the trenches.
How can you set yourself apart as a distinguished conference speaker?
Get coaching before a major talk. It's so helpful to get an objective viewpoint on how you are presenting and how you can improve. But, when you get on stage, focus only on one or two things at a time. Your primary focus should be on connecting your content with the needs of the audience.
Think about the big picture. The material may be routine for you, but for the audience it's the key to solving real problems.
Rehearse your introduction until you know it by heart. This will help you reduce nervousness and allow you to devote more brain cells to what really matters – connecting with your audience.
If you're feeling a bit nervous that's a good thing. It means that the presentation and the audience matter to you. Turn that nervousness into energy – energy that you put into preparation. That will give you the confidence you need to succeed.
Mini-practices over time prepare you for success. You need to know the flow of your talk. What's the storyline? To help with that use a notebook and make a list of your slides, but just the titles – one sentence per slide. Next to each title make a note of the mini-stories you will tell in support of each. Break the content down into modules. Carry that notebook with you to review the flow and stories of a module. You can practice anywhere even without your laptop.
Arrive early and get set up so you can greet people as they come in. Make them feel warmly welcomed, shake their hands, ask them questions, smile, give them a human connection. That simple act works like magic!
Remember that your audience is made up of very smart people who have problems to solve, and they want to learn from you how to do that. Remember, they want you to succeed because it will help them.
To break the ice, use stories for two reasons: people are eager to hear how the story ends, and they want to know how you are going to connect the story to your content.
Be convincing. (It will primarily come through your voice and your passion.) If you're not convinced yourself about what you're presenting, you'll never convince the audience.
If you don't know an answer to a question, admit it. If you try to fake it, you'll lose credibility. You gain stature with the audience by admitting it and promising to get back to them with an answer.
Honesty is crucial. If the technology has flaws admit them, but also focus on what is working. Don't try to defend something that you don't believe. Get them on your side by laughing about it, tell them about any plans to fix it, and refocus on the good stuff.
Use personal stories during the talk. It makes you more of a real person and makes a real connection. Admit your own mistakes and what you learned from them. Bring in stories about your family or hobbies if they can help the audience understand the content better. Stories strengthen the connections.
Interact with your audience. Ask them questions and allow them to ask you questions. Move around the room to interact physically as well. Keep them alert and involved in the learning process.
Know your material. Do not turn away from the audience to read from the slides. The content is flowing from your expertise, not from the slides.
Have fun. When you know your material so well you can relax and have fun with the audience as you help them solve real-world problems. Play with them. Let them know that you know what their world looks like and you are going to help them make it better.
Thank you to Bonny and the Distinguished Speakers for allowing us to pass on the wisdom from the stage. We bet you have advice, too. We'd love to hear what's worked for you speaking at a conference.

If you would like more information about our work in preparing speakers for conferences, contact us at coordinator@powerspeaking.com.
Related Blog Posts: Introductions: A Winning Game Plan for Any Conference, Do Pushups, Fold Laundry, How Can You Maintain Attention?

About the Author
PowerSpeaking, Inc.