The magic of the many: PowerSpeaking CEO and Chief Learning Officer, Carrie Beckstrom, shares some thoughts on learning from each other in new and creative ways.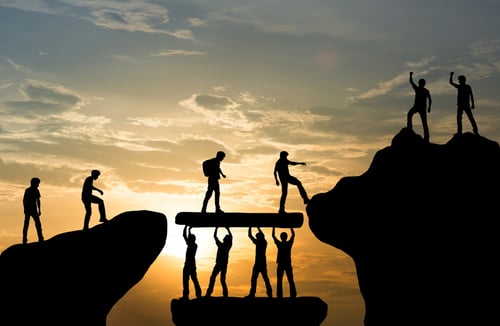 First, eyes closed. Next, a deep breath. Then, this mantra: "My ability to adapt is expanding."
Again.
My ability to adapt is expanding.
Once more.
My ability to adapt is expanding.
We were gathered virtually for our quarterly "Facilitators' Day," when PowerSpeaking's Mitesh Kapadia gifted us with that inspiring personal vision. And did we ever need it. Our quarterly meetings were always held to give our global team business updates and a chance to strengthen relationships. This gathering, though, was the first since the coronavirus outbreak and all that it has wrought.
Yet, with that generous, expansive perspective—My ability to adapt is expanding—Mitesh helped us all grow a little more that day (not to mention relax). From Payal Gandhi Hoon in New Delhi, to Shane Donohue in Limerick, from David Binder in Pittsburgh to Gabriele Trommer in Feldafing, the gift was clear: we are at our best when we remain open to what we can teach each other.
Fortunately for all of us, there are countless examples these days of people who are sharing creative ways to connect, adapt, and learn. My sister, who is a higher-education professor, sent me an article recently that talked about a trend college instructors are seeing not only among their students, but also, among themselves. In this stressful, emergency distance-learning environment, they're all having difficulty focusing on text-heavy study materials. So, one empathetic and enterprising teacher adapted by assigning reading in shorter chunks, sending more podcasts and videos, and giving feedback to her students via Google meetings.
Another example: I recently attended a virtual learning session hosted by Elliot Masie, who heads The Masie Center, a think tank focused on "how organizations can support learning and knowledge within the workforce." The session focused on how L&D/HR professionals can use empathy to create a more energized learning environment for employees. The ideas were made even more memorable by the Broadway performers Masie engaged to deliver them!
Speaking of empathy and creating spaces for people to learn from each other, I'd like to share one more example. In a recent PowerSpeaking virtual workshop in which we were sharing a framework for storytelling, a participant from Nova Scotia described how the recent mass shooting there is impacting her small community. Because she was so articulate and compelling, the rest of the workshop participants not only saw powerful storytelling in action, but also, were given the opportunity to connect and learn from another human being who was surviving another kind of tragedy.
Because the PowerSpeaking team is in the business of transforming people's communication skills, we are fond of stories about learning and growing. And so, I'm wondering what lessons you've been gifted with recently. Who has inspired you to become more open to change, to empathize with others, or to create new ways of learning?
We'd love to hear from you.
On the journey with you,
Carrie Beckstrom
CEO and Chief Learning Officer
About the Author
PowerSpeaking, Inc.