Do you have a presentation coming up with a couple of your colleagues? Perhaps a team presentation that is critical to moving a project forward? Team talks can be sloppy, unfocused, and ill prepared, at worst. At best, they offer a chance to showcase an engaging, polished team. The following tips help assure your team enjoys a "high five" moment at talk's end, and stand out from the crowd.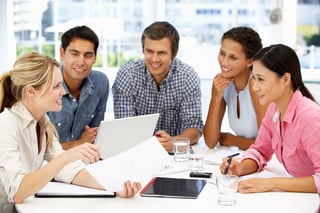 Huddle Early
Individuals often make the fatal mistake of spending all their prep time before a team presentation focused only on their individual slides and what they'll say. Instead, huddle early to set your game plan. Given the total time you'll have, decide what major sections of content you'll each cover. Determine how much time each person will take. Set checkpoints to review content, assure slides have a uniform look, and plan when you'll rehearse before the event.
Develop a Theme and Carry it Throughout the Presentation
Don't let your talk feel as though there are two or three completely separate talks. To make the presentation memorable, develop a main message that is woven throughout every section of the presentation and is repeated. For a conference setting, is it possible to link your presentation to the overall theme of the conference?
An Emcee Role Provides a Clear Roadmap
The team member opening the team presentation is the "glue" holding the presentation together and plays a critical role:
♦ S/he lets the audience know how the talk is organized in the opening;
♦ Provides introductions of the presenters;
♦ May direct questions to appropriate team members;
♦ Often provides a wrap up to the entire presentation.
Time: Divide, Conquer + Keep 'em Engaged
Imagine a 60-minute talk with person "A" delivering a 30-minute block and partner "B" the second 30-minutes block. This virtually guarantees an audience slumping into siesta mode. Instead, whether two presenters, or four, divide the content and time more often. Perhaps one presenter does the opening 5-10 minutes. Another presenter delivers the next section of say, 15 minutes. Then switch again—whether back to the first, or on to another team member. The emcee that kicked it off might later close the talk. This is known as pattern disruption and is an effective strategy for increasing audience attention. Frequent handoffs are a great way to set a pattern, then to change it to hook their attention back to the content.
Make Like Baseball Catchers
Set up your "secret" signals to manage timing during the talk. Agree ahead of time on signals you'll give to alert the partner(s) of their timing. Create a signal for when you have, say, five minutes left. Or two. Agree on a signal for when the partner has gone over time and you need to move along. Creating such signals ahead of the event assure good time management and smooth team delivery. If you end on time or even a bit early, you come off looking like pros.
Rehearse…Then Rehearse Some More
If it's a high-stakes presentation or conference talk, you want to convey your best as a team. Carve out time for a collective, out-loud delivery rehearsal of the full presentation. This way, you can monitor your timing. Rehearse transitions when you pass off the presenting baton to your partner(s). Visiting and 'walking the stage' (or room) where you'll be presenting, can also help to counteract the nerves.
Plan for Questions and the Ending
Be sure to plan for the Q&A strategy, how you balance responding, and who wraps up the talk for an engaging finish. Discuss ahead of time how you might address together any challenges that could arise during the talk. Preparing for the questions ahead will inoculate against surprises and showcase your leadership presence.
Try out these tips to assure a smoother, more engaging team presentation. Make the time, be strategic in your collective preparation and rehearse. We're already mentally adding to the applause for your team's successful talk, and giving you a "high-five."
Related Blog Posts: Just-In-Time PowerSpeaking, 16 Tips For Creating A Winning Organizational Framework,
About the Author
PowerSpeaking, Inc.