As if preparing content and effectively presenting it weren't enough to manage, what happens when you walk in the room and face a difficult audience or a challenging audience member that could throw you off your game?
Be assured: you can maintain a confident, calm leadership presence…and manage the challenges and surprises that arise in your midst. These tips will help you tame challenging audiences and help create presentation success.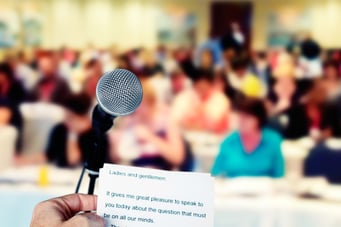 Depersonalize...to Maintain Your Composure
Have you ever glanced out at an audience during a talk and noticed people on their phones, side talking with colleagues, or otherwise disengaged? It frustrates even the best speakers. The first step to maintaining your composure in these situations is to assume benign intent. The person checking their phone may be responding to a critical message but focuses back on you in 45 seconds. While the two whispering colleagues may throw you, they could be clarifying your point or sharing a related idea. For good or bad, our culture is one of constant distractions. If you depersonalize the situation, you increase the chance of maintaining cool focus and composure. This affords you more presence to better respond to what's happening in the room.
Hostile Audiences...Or, Name That Invisible Elephant
Perhaps you must deliver bad news. Resistance, lowered trust, or other stressors may be present. Presenting to those who are frustrated is unavoidable. Whether with peers, staff, or decision makers, you'll gain credibility by naming the invisible elephant up front. In fact, executives want you to acknowledge bad news first—then talk solution. Build acknowledgement of the challenging dynamic or news into the start of your talk. If you avoid the 'elephant' in the room, it can balloon in size. Name it and you show authentic leadership to influence others. Doing so might feel nervy, but you'll better inoculate against difficult behavior during the talk. You'll gain trust and move the discussion forward.
The Monopolizer
We've all witnessed the audience member who knows a lot. They are expert or passionate about your topic. (And, maybe they like to hear themselves talk.) How do you bring focus back to your topic if they interrupt? Allow them to speak. Listen to see if it links to your content. If so, great. If not, at a gracious, yet assertive interval, acknowledge the content and bridge them back to your content. "Bob, it sounds like you have some great ideas on topic X. And I'd like to link this back to…(your content)." However you can, acknowledge them, and quickly bridge back to your content. If they jump in again, acknowledge their enthusiasm, remind them of the goal and timing of the presentation, ask for a special one-on-one after the presentation, and then resume your content.
Side Talkers...Or the Power of the Pause
If two audience members begin whispering in their own sidebar, don't channel your indignant second-grade teacher with their hands on their hips. 99% of the time, we find that a powerful strategy works—take a moment to pause. You might consult your notes. Take a sip of water. Walk from one part of the stage to another (in silence). Smile in a friendly, waiting manner to the side talkers. When they "hear the silence" in the room and see the gracious demeanor, it draws their focus back to you.
Distracted on Devices
Engaging style and conviction help keep an audience engaged. Does your voice sound energized and show conviction for your topic? Are you using a variety of descriptive gestures, facial animation, and perhaps movement around the stage area (if large enough)? All this helps to keep them focused on you. You might also set a pattern in place from the first minute or two of the meeting, of referencing names of people in the room. You aren't calling on anyone to answer questions, per se. But comments in passing like, "And Arun, I know from our recent conversation that this issue has come up on your team…" Do this with some frequency and —whether people are attending in person or virtually—you bring the whole room's attention back.
We urge you to test these surefire strategies and inoculate against challenging audiences. You'll increase your chances of an attentive group impressed with your great management of content—and of them.
Related Blog Posts: Hook 'Em in With Impactful Openings, Audiences on Devices: How to Hook 'em and Hold 'em, Top 5 Strategies to Handle A Difficult Question Like A Pro, How to Beat the Snooze Factor