International Women's Day is coming up this Sunday, March 8, and I'm thinking about how often we women try to "go it alone" in the workplace, and in building our careers.
Despite the roadblocks we still face, why do we still insist on finding our own way, alone? Not showing "weakness" by asking for help? And even when we do feel the need for guidance, we often feel like we don't know how to find or ask for the help we need.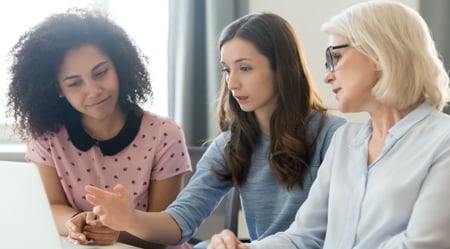 I have been fortunate in my career to find—sometimes intentionally, sometimes by accident—several awesome people who mentored me. As a matter of fact, I can't imagine being where I am today without them, their wisdom, and their generosity. And to my surprise, the enrichment turned out to go both ways, as the mentoring experience gave them opportunities to grow, too.
I've known a fair number of women who, like me, either searched for or stumbled into a mentor-mentee relationship. But even in 2020 (remember "Women's Lib," 50 years ago?), the imperative of having mentors and advocates isn't institutionalized in women's psyches the way it could and should be. I love the insight Lynne Zaledonis, SVP Product Marketing at Salesforce, shared with us as we were developing our Confident Speaking for Women workshop:
"I was late to build a series of mentors and advisors . . . At an early age, I didn't feel like my career warranted that . . . It was almost like I felt I didn't deserve it until I started to get promoted. But maybe I would have been promoted a lot faster if I had built that army to advise me and guide me."
Confident Speaking for Women includes an entire segment on benefitting from the mentor-mentee relationship, as well as finding other advisors and advocates who can go one step further and take action on your behalf in specific situations. We also talk about the importance of women creating their own personal "board of directors"—another form of mentors. Again, Lynne had a great insight when she defined the concept:
"It's finding a group of individuals, at all different levels in their careers, and at all different levels of engagement with you—male, female, different roles within the company—so that you know who to turn to when you have to make difficult decisions."
In the development phase of Confident Speaking for Women, we interviewed dozens of female executives to gather information, insights, and learning experiences. In time, several themes emerged, the most important of which when it comes to mentoring, is . . . courage. The courage to be your authentic self. To tell your truths, and tell them effectively. To be open, and take risks.To find and benefit from other people who can help you reach your career goals—faster. And last but not least, to pay it forward as soon as you can.
This year's theme for International Women's Day is "EachforEqual." I love the phrase because of the implicit message of the individual, yet interdependent effort it will take for women—and all people—to create equality in the workplace.
Along the way, we all need mentors and advocates. They're what help us realize our dreams.
On the journey with you,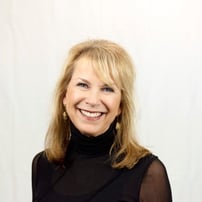 Here are some resources for you:
In honor of International Women's Day, PowerSpeaking is offering a complimentary, 1-hour Confident Speaking for Women webinar, on April 9, 2020, from 8:30 a.m. to 9:30 a.m. PST.
More detail about our full-length, in-person Confident Speaking for Women workshop.
The International Women's Day website is a veritable treasure trove of information for women, and anyone who wants to learn more about creating parity in the workplace. Look especially under the "Resources" tab, where you can find tips and publications on the topic of mentoring.