At PowerSpeaking, Inc., we know that at the base of presenting well is solid, memorable content and style. A question that often creeps into the discussion on preparation, though, is about what attire is appropriate to wear when presenting. Appearance either enhances credibility, or undercuts it. To convey a more engaging presence, these tips support you having the "attire picture" of talk success.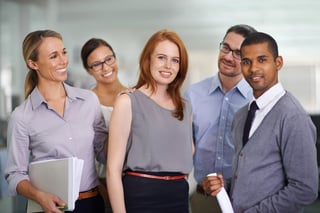 Fit Your Culture…Then Up One Notch
Companies today often have a business casual culture, with jeans and t-shirts the norm. You don't need to shock colleagues by wearing a formal suit to present. Instead, fit your culture, but take it up a notch. Are jeans the norm? Then to present, wear slacks and a button-down shirt. Women can follow a similar strategy of "dressing it up" a bit from the day-to-day norm. Upping your professional image on days when more eyes and attention focus on you simply makes career sense.
Avoid Jingling Pockets – For the Men
Men often carry a lot of "stuff" in pants pockets. Make it a habit to empty pockets of contents—coins, car keys, etc—before getting up to present. If it is a stand-up presentation and you occasionally put a hand in the pocket (a style strategy we recommend to look more relaxed), don't let the jingling coins distract the audience from your words. Emptied pockets support a relaxed, professional look…and people will be focused on your words.
More on Noise – For the Women
Jewelry adds personality and completes a business look. But on presentation days, avoid bracelets that jangle together and unwittingly create noise. Occasionally, longer or layered necklaces have the same effect. Such noise distracts listeners from content and undercuts your professionalism. If presenting while wearing a microphone, simple or conservative jewelry choices will minimize noise that competes with your message.
Distracting Attire - For All
Content is king for your talks and what matters most. Yet you want to assure you plan attire ahead, to also avoid distracting attire. Clothing shouldn't be too loose, or have stains you discover after arriving at the office. Attire for women shouldn't be too tight or distracting visually. Conservative fashions work better on presentation days. Take time to not just plan your outfit ahead, but try it on with full lights in the mirror.
Lights, Camera and On-Air Attire
If you'll be filmed for your talk, know that darker colors are slimming. Bold patterns look visually "noisy." Subtler, "quieter" patterns (if worn) come across better on camera. For any high stakes talk or one for which you'll be on camera, make like the fashion world and take test shots with your phone camera. Compare to see what outfit conveys your smartest professional appearance. Doing so lets you feel more confident before the important event.
To ensure that you will be remembered not only for your content (and not your mistakes in attire), a bit of extra focus on your appearance will give you overall results that serve your business talks, and your career.
Related Blog Posts: Ten Tips on Confident, Credible Delivery
About the Author
PowerSpeaking, Inc.