Contributed by: Mary McGlynn, CEO, PowerSpeaking, Inc.
It truly was a dark and stormy night in March of 1954 when a fierce lightning storm created a violent explosion to our barn in rural Wisconsin. The barn burst into flames with the dry hay fueling the raging inferno. By the time my Mother woke up, the sky was a blazing orange. The volunteer firefighters from our village were called but there was no way to save the barn. Over the course of the night, almost all of our cattle died in their stanchions; the newly purchased farming equipment was destroyed; and my parents lost their source of livelihood. I was five years old, was one of six siblings, and for the first time witnessed my parents crying.
But that's not the end of the story—but the beginning of a glorious life lesson.
The neighbors showed up the next morning to bulldoze a great big hole to bury our cows.
The meals showed up to help feed our family.
In the latter part of the spring the village men set up a sawmill to cut and plane the lumber from our woods for our next barn that lasts to this day.
We survived because of our community…
That was the beginning of my acceptance of the Instructional Systems Association (ISA) Business of the Year Award in March, 2016.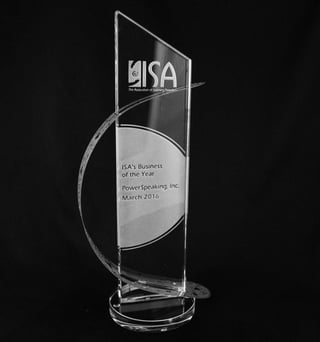 The keynote was in front of 160 colleagues and dear friends: it meant a lot. There is always reflection after a talk: what would I have done differently; what worked. Today I offer six reflections. My hope is that you will be able to apply the life lessons to your talks in the future.
What would I have done differently?
#1: It doesn't have to be perfect: I'd love to have had less reliance on my notes for that hour-long speech. I'd like to have moved around the stage and not have a lectern—yet I know it was customized content that I had never delivered before. As a speaker, "Forgive yourself." The story was powerful with the message relevant to the audience. It doesn't have to be perfect and, in the end, focus on the positive.
What worked?
#2: Be audience-centric: it's not about you! How do you connect with your audience? Stop talking about yourself; talk about what matters to them. ISA is an organization of learning providers. What are they interested in? Their bottom line; their operations; their ability to grow their business; their challenges. I tapped into their concerns and used the lessons from the past two years to talk about their issues. Examples included:

Independent contractors: In today's world, be cautious.
Create a culture of community: All-hands meetings are worth every cent. They build and reinforce the company culture. They insure the best programs for our clients.
Advisory Board: A Board of Advisors serves as a sounding board in areas where you may not have the expertise.

#3: Provide a roadmap: An easy-to-follow organizational flow is a gift to your audience. What created that roadmap?

Two organizational buckets for content: 1) The challenges that took us off trajectory; 2) The decisions that put us back on track.
Develop a theme throughout the presentation: The theme of community was reiterated again and again throughout the talk.
Placement for questions: Strategically, I planned for questions but was clear where that placement would be prior to my wrap up.
A simple handout: There was a one-page handout with the 8 lessons and a place for notes. In an instant, audience members knew where I was heading.
Lesson + Story + Reiteration of Lesson: Tom Peters, the In Search of Excellence author, had a PEEP model for his presentations: he would provide the audience a

P

rinciple (lesson), then add

E

xample after

E

xample, and then close out with that re-statement of the

P

rinciple (lesson). That structure was used again and again in my talk.
Bookend the talk: I linked my opening and closing, i.e., the barn burning / the barn raising, to create bookends. This holistic approach gives the audience a sense of completion.

#4: Drive your storyline home:

I hammered home the theme of building connections and getting guidance from the community—never underestimating the power of people working, caring, and helping each other. Just as my small village came together to help the McGlynn family in our time of crisis, my business village helped PowerSpeaking, Inc. during times of turmoil. Two examples:

When the State of California sent us a bill for $412,000, and declared all of our trainers to be employees, we reeled. Our ISA community helped us transition through advice on HR manuals, benefits, and fee structure. That's community.
When I bought the company from our founder, I knew I wanted to develop a new Board of Advisors to get a perspective and expertise I did not have. Those six individuals have served as the bedrock for steering the company forward.
#5: Pattern disruption: How long can an audience listen, with complete focus, to your lecture? According to my friend Ann Herrmann-Nehdi, Herrmann International, not long, because we have all acquired a kind of attention deficit disorder from the constant interruptions of our devices. Here is what can you do to keep your audience focused and your talk moving forward:

Tell stories: A story taps into the emotional, logical, and ethical experience of the audience, which means they will be more engaged.
Use Multi-Media: I wanted my community to show up during the presentation. Through an iPhone and iMovie:

Don Kraft, Genentech, talked about celebrating as partners;
Brent Bloom, Applied Materials, talked about the benefits of Board membership;
The trainers talked about the teambuilding spirit that occurs in meeting on a quarterly basis;
Moira Kavanaugh, our VP of Sales, provided a narrative of how the community supported her as she went through a health crisis.
Include a guest presenter: Who says a keynote involves only one presenter? I asked our Learning Manager, Angela Gregory, to provide a lesson on how to manage massive amounts of content. She is the expert. I am not.
#6: Ask for help: Rehearsal is key! I admit, I do have a secret advantage: I have a ton of support from a team of experts. I only had to ask for coaching. Talk about community!

Planning stage: I sent out a note and simply asked for guidance. Amazing how the community responds.
Organizational construct: I did the heavy lifting of writing but checked in with my circle of support.
Angel Angela: Angela was called upon to create slides and incorporate video into the slides and create the handout.
Video expertise: I am lucky to have Rick Gilbert, the founder of PowerSpeaking, Inc. (…and husband), willing to interview and then edit videos into a storyline.
Rehearsal: In the two weeks prior to the talk, I carved out time to go through the talk at least once a day to get the flow just right.
It was thrill of a lifetime to receive the ISA Business of the Year Award. As I closed the presentation, I went back to the imagery of the barn and how community has been a strong influence every day. So, too, I thank you for being part of our blog community. I'd love to hear how you have told your story in your keynotes.
Here was mine . . .
To wrap up, on the morning of the barn raising, the cars started pulling in just after morning milking. They parked along the driveway and down the road to our neighbor's farm. There may have been 50 neighbors with tool belts, all prepared for the day ahead. A large amount of preparation had been done in advance of that day. Lumber and hardware were laid in, ground had been cleared, tradesmen hired, and a concrete block foundation constructed. The women unloaded pans of roasted chicken and baskets of garden-fresh vegetables and fruits for the lunch they would serve. Clutching hammers and saws, the men began the work on what would be our barn of today.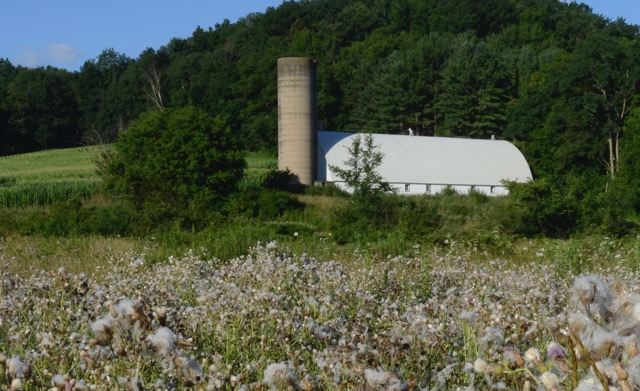 McGlynn Family Barn in Wisconsin
Related Blog Posts: Stealth Strategies for Calmer, More Confident Presentations, The 3 Essentials of Speaking
About the Author
PowerSpeaking, Inc.