We've all suffered listening to presentations bloated with data. Sure, numbers need to be communicated and assure credibility. Yet a tsunami wave of data creates another danger—increased risk of boredom and audiences checking out. One surefire way to engage an audience is strategic use of stories. Whether for a ten-minute update, an hour-long talk to colleagues or a conference presentation, stories increase retention, and set you apart from the crowd.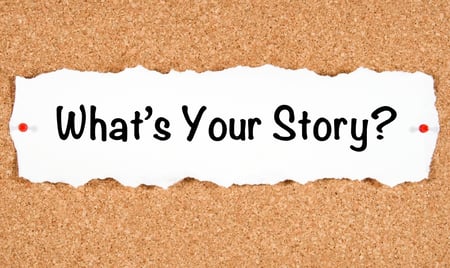 So…where to add stories?
A strong presentation—like a high school essay—should have a beginning, middle and end. For the body, you might link a quick story to one of your key points to convey content with more "punch." This is especially critical when delivering dry or data dense material. You could open with a story, or possibly close with one. A story can link in to any part of your content.
Hobbies & Personal Interests (OR: Outside Work…Got a Life?)
Standout presenters increase engagement by weaving in outside work hobbies or passions. Such "self-reveals" make you more relatable to audiences and increase your ability to persuade.
• Make dull points about a project come to life by linking them to your planning for a marathon or a vacation.
• Do you have to explain a technically complex instrument to people with no expertise? Use an ATM analogy. There is a lot of complexity going on in the background yet by using a few buttons, you can get the cash you need.
• Another example is how leadership is similar to a symphony conductor leading an orchestra.
Consider a key point and data you must convey. How might you reference an interest from your own life to illustrate the point? In doing so, you'll make your content more memorable.
Analogies (OR: How would you explain it to a 4th grader?)
If you're drawing a blank at incorporating your hobbies or interests, we recommend using a generalized analogy. Again, consider a complex point and related data you must convey. Perhaps you are describing a challenge the business faces or a process improvement that must be instituted. How would you explain that complexity of detail to a 4th grader? We've seen clients compare aspects of their content to the air traffic control tower at the airport or to the head surgeon of an ER depending on other experts (the radiologist, nursing staff, etc.). You might engage by tying your story to current national or global events—like the phenomenal success of the Golden State Warriors or the upcoming Olympics in Brazil. Build in an analogy and you create more retention of your data.
Customer & Business Anecdotes
Most presenters already leverage customer anecdotes or recent interactions. When you weave those stories in, you improve upon 'just data' in a talk. The more specific and vivid the details are, the more likely the content stays in people's brains.
One Yellow Light: Decision Maker Audiences
While stories work well with general audiences, decision makers generally prefer minimal to no stories. A focus on data makes sense. Any story you relate must be crisp and convey significant business impact.
If, at your next talk, you must deliver a density of data and numbers, we urge you to experiment. Spend time ahead and get strategic. Where can you add in a story and bring your content to life? We guarantee you will have a more engaged audience with greater retention for your data. And that, we would say, is a story of presentation success.
Related Blog Posts: The Stories and Lessons from a Keynote: PowerSpeaking, Inc. Wins Business of the Year, Hook 'Em in With Impactful Openings, The Power of A Hero's Journey