October is Breast Cancer Awareness month. In honor of a dear friend, I went to a fundraising concert with 10 female singing groups last Saturday. As I listened to the gorgeous sounds, I reflected on a 60-mile walk my sister and I made a few years ago.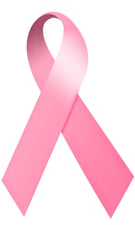 Colleen and I (along with 3000 other men and women) completed the walk from Cupertino to San Francisco. We helped raise 6.2 million dollars to fight breast cancer. It was a journey of kindness, compassion, poignancy, tears and laughter, personal struggles, and community victory.
How could a 60-mile cancer walk ever relate to presentation skills? Let me count the ways.
1. Keep the Big Picture in Mind
Why were there 3000 people walking all those miles?
One in eight women will be diagnosed with breast cancer in their lifetime.

Breast cancer is the most commonly diagnosed cancer in women.

Breast cancer is the second leading cause of death among women.

Each year over 220,000 women in the US will be diagnosed and more than 40,000 will die.

<http://www.nationalbreastcancer.org/breast-cancer-facts>
The statistics are staggering. Why did I walk? It's more personal. I am holding the hand of my dear friend as she has recently completed her 16 rounds of chemo. Sixty miles is nothing if it can bring us one step closer to eradicating cancer.
The Big Picture in a Talk: Taking the view from 30,000 feet is helpful in the thinking process of a speech. Why am I giving this talk? What is it that I believe in? What is it about this project or product that makes a difference? How does this talk fit with the bigger vision? If you can answer these questions, you are set for the journey.
2. Focus on the Main Message—and Repeat It
When it came to safety, the core message was repeated in a thousand ways, "Stay alert. Stay alive." From moment one of our walk, individual and group safety was stressed. No one was allowed to walk unless you wore an orange wristband indicating you had seen the safety video. Every large intersection had a monitor who, while having a good time, guided traffic, stopped walkers, supported walkers, and stressed safety. As we left Skyline College at 6:30 AM Sunday morning the fog was so low it was difficult to see 25 feet ahead. The organizers had police escorts and a human chute of volunteers with fog sticks to show our way. "Stay alert. Stay alive." Everyone knew the message!
When it came to the physically handling the 60 miles, there were two core messages: "Eat before you're hungry. Drink before you're thirsty," and "Stretch for five every hour." About every mile and a half we encountered a "Grab and Go" or a "Pit Stop." The volunteers handed sliced oranges, bananas, bagels, energy bars, Gatorade and water to all the walkers. There was a place to stretch. Volunteers reinforced all efforts, cared for the walking wounded, urged people to eat, drink, and stretch. (I certainly got the message about eating. I gained five pounds on a 60-mile walk!)
The Main Message in a Talk: It's the same in a presentation. If a message is catchy and right for the talk, your audience will remember it. Once you have a clear core message, everything else can fall into place. It is the advanced thinking that makes a difference. If I can craft a message that is the essence of my talk, the bulk of the work is through. In one, clear, succinct sentence, what is your main message?
3. When You Have Information, You Can Deal with Almost Anything!
Over the three days, it was surprising how dependent I became upon the routing information given to us when we signed in for the walk. I knew elevation, mileage, cross streets, distances to the next Stop N Go. I watched closely for my next street marker. I was able to keep focus.
Volunteers shouted words of encouragement with a comment, "You've already gone 13.5. Wow! Only 6.5 left to go for today." On the first day we walked 23.5 miles. Because Colleen and I were towards the end of the 3000 people trying to get out of DeAnza College, we knew we were going to have a very long and slow day. While the first walkers stepped out on Stevens Creek Boulevard around 7:20, we did not actually start the journey until close to 8:30. That day was sweltering.
By mile 21 I was tired and ready to be done with that day. It was those signs, those words of encouragement, and information, that allowed me to put one foot in front of the other. "Yah. We can do that. Only three more blocks to the next rest." "Just around the next corner, only one mile left to go." Information allows you to deal with anything.
Providing Information in a Talk: Presenters need to do the same thing. Provide your audience with information. Provide your audience with clear, boldly apparent transitions. Don't be reluctant to let your audience know what your agenda is, how many points you are going to make, or when you are transitioning to another part of the talk. If you provide information and structure, your audience can sit back, relax, and actually listen to your message.
4. Stories Propel You Forward
Every single walker had a story. Colleen and I walked with a man who wore a laminated picture of his beautiful 41-year old wife, lost to breast cancer the previous February. He cried, talked, and healed for almost 72 hours straight. A family of nine walked to celebrate their mom's ten-year and their son/brother's four-year anniversary as survivors. The survivor's journey of 60 miles was even more daunting because he had lost his leg below the knee to bone cancer. He was doing his walk with a prosthetic leg. We experienced 60 miles of love and support and cheers and stories. People wore signs and messages from family members and friends. "We love you, Mom. You can do it," "I miss you, Melanie," "Sarah, 1963-1999. This is for you." As we walked we heard the stories.
As we walked, we created a magical bonding into community. With every story, I was drawn in.
Tell Your Story: Do you want your audience to be drawn in? The sure formula for success is stories. Stories personalize. Stories create links to your audience. Stories make principles and ideas more clear. Stories separate successful speakers from the ordinary.
In any successful talk (or long walk) keep in mind the big picture, the core message, clear information, and compelling stories. Your success depends upon it.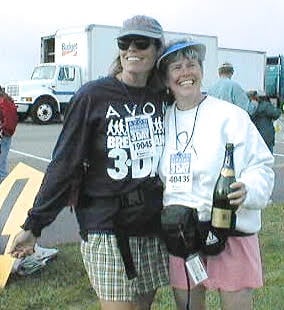 Related Blog Posts: "A Shining City on the Hill" How A Metaphor Can Touch your Audience, The 3 Essentials of Speaking, Care and Feeding of Your Voice, and Just-In-Time PowerSpeaking