Your presentation, proposal, or talk will only be as good as the quality of your audience analysis.
Listen to Learning Director and Master Facilitator Angela Nelle talk about why analyzing your audience is so important, and how to do it. It's a 2:30-minute watch, and you can download the Audience Analysis Checklist she refers to here.
On the journey with you,
Carrie Beckstrom, CEO
and The PowerSpeaking, Inc. Team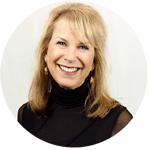 About the Author
Carrie Beckstrom
Chief Executive Officer, PowerSpeaking, Inc.
CEO Carrie Beckstrom and the PowerSpeaking team are passionate about helping organizations—at corporations like Genentech, eBay, Autodesk, and Gilead Sciences—develop powerful communication skills that inspire people and get results. Prior to joining PowerSpeaking, Carrie enjoyed more than 30 years' experience in the learning and development industry, where she led teams that made Training Magazine's "Training Top 125" 10 years in a row. Then, as now, she believes that "Our purpose is to make great people even greater at what they do every day."