At the core of every insightful presentation is a story. Human beings naturally seek out a narrative.
But the process of becoming a storyteller doesn't start with writing and rehearsing the presentation; it begins in observations of everyday life.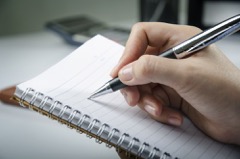 A 'Story Mindset'
The most effective business storytellers have a "story mindset." They recognize that life is a story told in bits and pieces, and they are always on alert for situations that could fuel a future talking point.
The 'Ah-Ha!' Moment
Compelling stories typically have an "Ah-ha" moment, when someone in the story suddenly realizes an important truth. It might be an unexpected problem, an unusual solution, or a surprising change in perspective that carries the meaning in a business story.
Extreme Results
It's especially powerful when the "Ah-ha!" moment comes from an extreme incident.
If you represent a data storage company, for example, maybe you have a story about a client so threatened by cyber attack that they risked bankruptcy, and your innovative solution protected them from that danger. Create a stark contrast in the before and after situations, and back that contrast up with hard data to cement credibility.
Cataloging and Tagging Stories
Once you've adopted a story mindset, how do you build your observations into a presentation?
Keep a notebook with you. When something happens that is exceptional, or insightful, take notes right away. Sketch out the story while it's fresh in your mind, so you won't risk losing the excitement or critical details.
Then consider transferring your notes to a digital note-keeping app. There are many on the market with intuitive interfaces, which can be accessed remotely. Give each story a title, and add tags to remind you of the point or points each story could illustrate. Then, when you need a story to make a point, you can easily find it in your digital library.
The Building Blocks of Story
Here's a reminder of the essential elements you should include in your story notes:
Context: When and where did the story happen?
Chronology: What happened and in what order?
Characters: Who was involved in this story and what were their motivations? What did they say and do?
Conflict: Was there a problem to be solved, an obstacle to overcome, opposing views?
Conclusion: What's the point of the story? Was there a lesson learned?
Direct Quotes Bring Characters Alive
Try to capture exactly what the people in your story said, and how they said it. Then when you tell the story, you can take on the voice of the various characters. Listeners will get a distinct picture of each person from the tone of voice you express.
What's the Point?
Remember, though stories compel attention, storytelling in a business setting isn't just about entertainment — it's about illustrating an important idea. So be clear about the point you want to make when you tell a story.
Once you get into a storytelling frame of mind, keeping all the stories you collect straight in your head can be a challenge. So note them in the moment and catalog and tag them for future use. You'll have created a rich resource to call upon in building effective and memorable presentations.
Related Blog Posts: PowerSpeaking eBook Preview: Narrative Evidence and Analytical Evidence, The Power of A Hero's Journey, How Can Anyone Be A Compelling Storyteller
About the Author
PowerSpeaking, Inc.