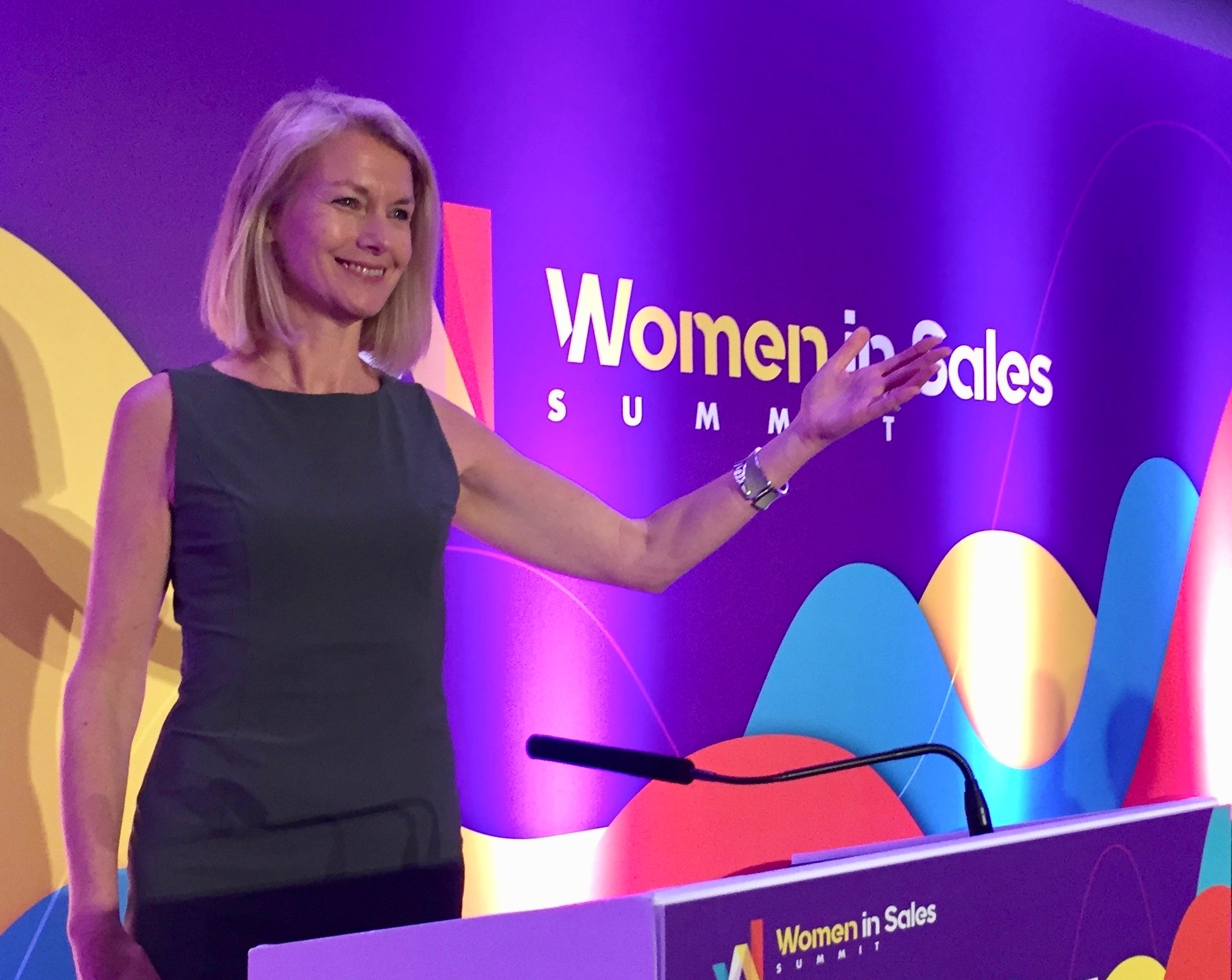 "Great speakers are not born, they are trained."
This Dale Carnegie quote is never more true than when you're speaking at a conference—especially if it's virtual.
With so many distractions, competing events, and potential technology glitches, virtual conferences are a place where you have to work extra hard to prepare for and wow your audience.
I have been involved with in-person and virtual conferences for years, both as a speaker and a coach, and it never ceases to amaze me how diverse the quality of the speakers can be. I hear feedback on speakers such as, "Brilliant mind, but they lost me at 'hello,'" to "Amazing speaker. So inspirational."
The latter was certainly my response when watching keynote speaker Former First Lady of the United States, Michelle Obama, at the June 2021 Women in Technology Online Festival (there will be another one in November—check it out!). I asked myself, is she just a naturally brilliant speaker, or had she received some coaching?
As we emphasize in PowerSpeaking, Inc.'s presentation skills training programs, for most of us, it takes learning proven techniques and a lot of practice to shine on stage (or web camera).
Ready to begin?
Today I'll start with our best tips for engaging your virtual conference audience and delivering a memorable talk. I'll include several video clips from conference speaking sessions I hosted at the Women InTechnology Festival, plus tips you can download and use the next time you're preparing for a virtual event.
Following these speaking tips are examples of technology platforms and tools that can help you create a stellar virtual experience. Also included is an informative list of some benefits and drawbacks of virtual conferences.
No time to read the whole article now but need some quick tips for a conference talk? Download them here . . .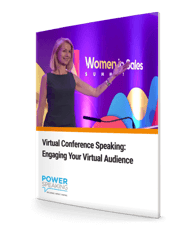 Don't have time to read the whole guide right now?
Let us help you succeed with our guide and proven tips for winning over your virtual audience. Get the PDF version that you can save to your desktop and read it when it's convenient for you.
(No email required):
Chapter 1
Speaking at a Virtual Conference: Best Practices and Tips
At a virtual conference, you need to work extra hard to craft an engaging experience, grab and keep your audience's attention, and convey your content, so it has the impact you want.
These top tips will help you do just that...
Read on and watch the clips from my conference videos to really understand how you can up your game when it comes to virtual conferences.
Start with the end in mind
Think of your session as a story you and your audience will embark upon together. How does this story end: a call to action, an answer to a question you posed initially, or maybe a new perspective on the topic?
Grab their attention right from the start
You don't get a second chance at a first impression. Imagine a movie that starts with an agenda:
"Today, I will introduce you to the characters, build the backstory, introduce a challenge, solve it, and end happily ever after." It doesn't capture your interest.
So why start a virtual presentation with an agenda? Instead, grab their attention: tell a story, make a challenge, ask a question for them to think about. You can get to your agenda after that.
Be audience-centric
Tailor your content to what your audience cares about. I share a few thoughts here . . .
Have a core message
What is the short, unforgettable sentence you want your audience to remember?
I recommend repeating a core message at least three times during a talk—and literally telling them that "this is the key takeaway, the main message I want you to remember from this talk." Check out this short clip to learn more . . .

KISS: Keep it short and simple
Audiences absorb more if you are concise and to the point. Long sentences, and too much detail, will send your audience running for caffeine.
Transition
Tie your content together to help the audience connect the dots: "Now that we've seen the problem, let's have a look at the solutions," or "Having looked at what's on the market, we realized there was no solution that fits. This is what we're suggesting."
Keep it conversational.
Your voice matters
It's the number one tool you have to keep your audience engaged. Listen to your favourite radio station. Focus on the speaker's voice. It probably changes in volume and varies in inflexions. If you don't want your audience to snooze through your presentation, create variety.
Be conversational
Don't talk at them. Talk to them as if they are friends. Weaving in personal analogies is also a great way to convey your passion for the subject and engage your audience.
Pause
Give your audience time to reflect. Don't power through. It's better to reduce the content rather than increase the speed of delivery.
Make eye contact
Deliver your presentation to the camera lens, and you will appear more credible and engaging. Looking someone in the eyes makes you more trustworthy.
Position yourself
Make sure you fill your video frame.
Your eyes should be in line with the camera and the top of your head near the top of the frame. Too low down, and you lose impact, too high up, and you lose your head (or at least part of it!). Sit/stand balanced, feet flat on the floor, so you are not swaying.
Have one message per slide
Make that message the title of your slide. Your slide content should support that single message.
Keep it simple
Reduce visual "noise." Your audience cannot listen to you and read at the same time.
Given a choice, they will always read, and you don't need that sort of competition.
Create visual variety
Include pictures, graphs, charts, bullet points, highlights, graphics, etc.
Focus on your audience
Remember, whether you're giving a rousing speech or a technical presentation at a conference, it's not about you. It's about your audience. If you want to have a meaningful, memorable impact on them, keep them and their needs uppermost in your mind.
A great quote from Maya Angelou to remember:
People will forget what you said. People will forget what you did. But people will never forget how you made them feel.
And don't forget to smile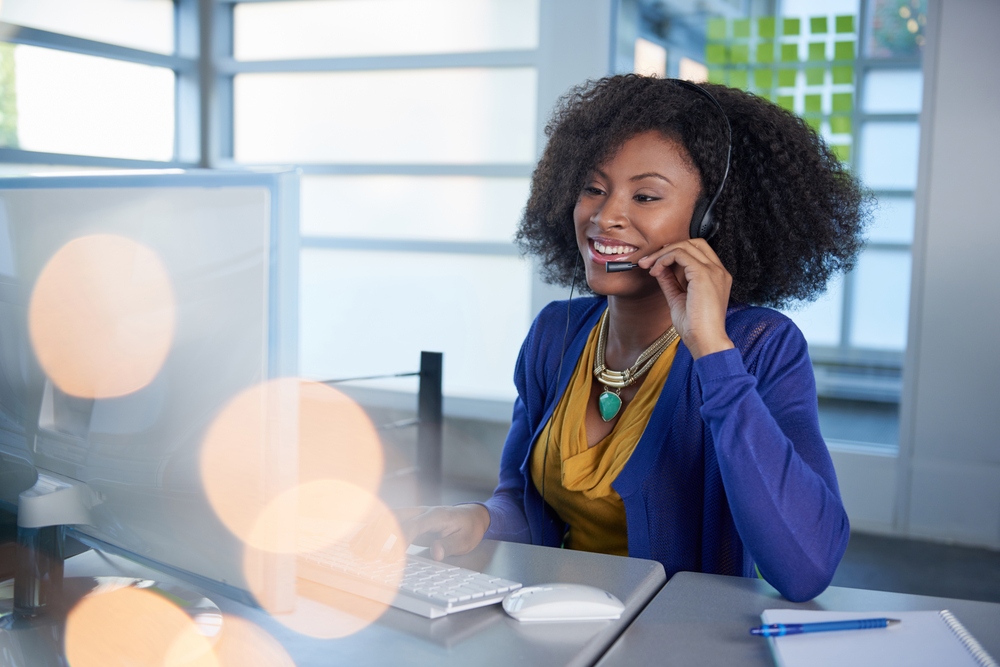 Yes, a smile needs to be genuine and appropriate to what you're saying, but you'd be surprised how many speakers take themselves so seriously, they hold a deadpan expression even when they're talking about something they care about.
Don't be afraid to show your passion and your excitement about sharing your message!
One last resource on conference speaking: three of PowerSpeaking's Master Facilitators offer their favourite tips for keeping engagement high in this blog post: 3 Top Tips to Engage Your Virtual Audience.
Now let's move on to some of the technologies you can employ to make the virtual conference experience a great one. These tools and tips are especially useful if you're organising or hosting a virtual conference or webinar, but it's also good to know what's available to you as a speaker.
Chapter 2
The Virtual Conference Explosion
We all know what prompted the sudden switch to working virtually in 2020. And while we're now tentatively stepping back into offices and venues, I do believe virtual conferences and events are here to stay, alongside in-person ones.
HubSpot, an American developer and marketer of software products for inbound marketing, sales, and customer service took their annual conference, Inbound, online last year and continues to do so this year. They offer different tracks for Marketing, Sales, Customer Success, HubSpot Academy, and RevOps.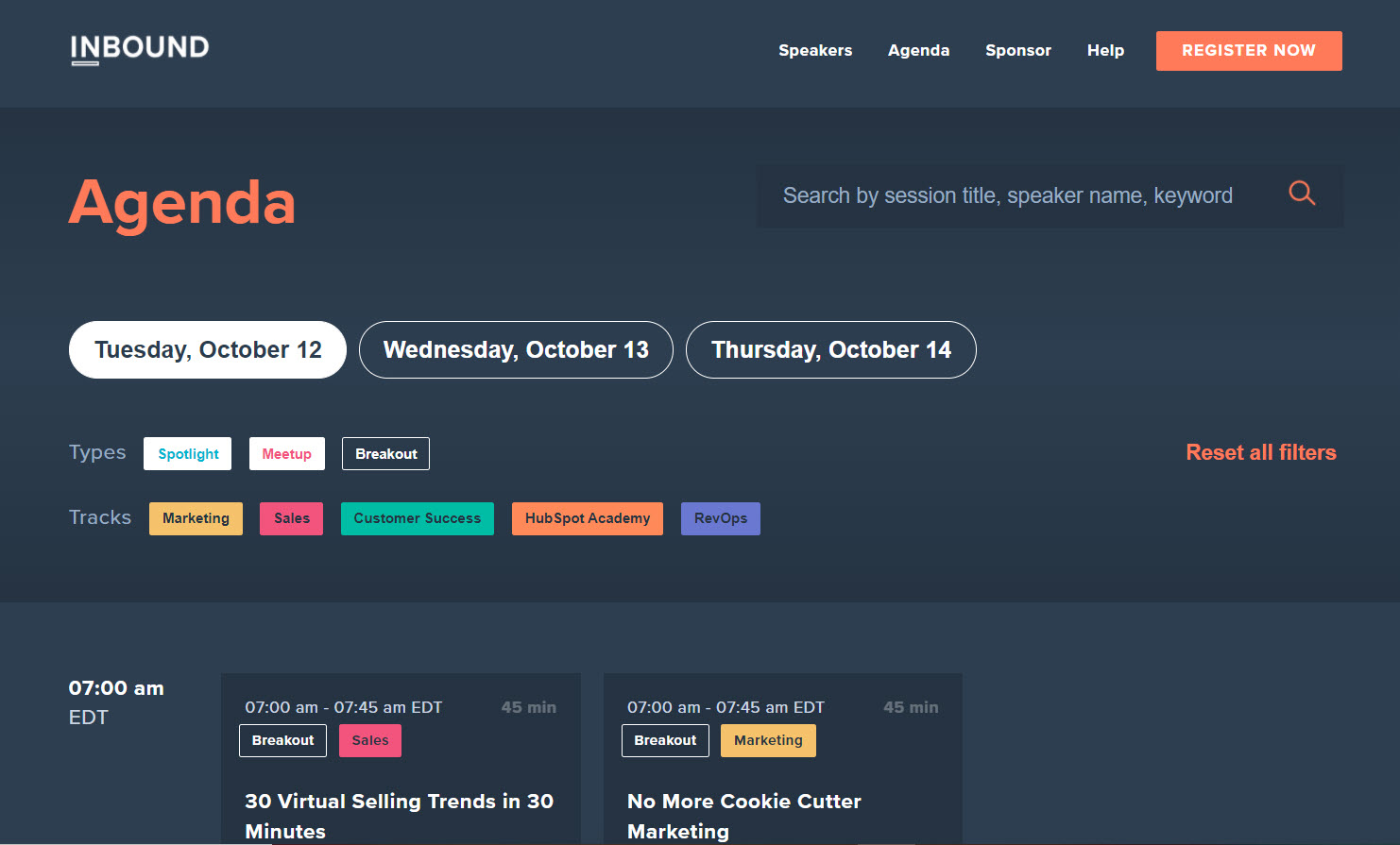 image credit: INBOUND.com
As another example, the Women In Technology Festival included four tracks—Skills, Team, Processes, and Digital—to accommodate the diverse needs of their audience. And as you probably know, events like these carry keynote speakers, fireside chats, open discussions, and more.
Just as virtual conferences will no doubt change over time, it makes sense for you, as a speaker, to keep up with how they evolve.
Still sceptical about how prevalent virtual conferences will be a few years from now? Grand View Research says,
The global virtual events market is expected to grow at a compound annual growth rate of 23.2% from 2020 to 2027 to reach USD 404.45 billion by 2027.
Chapter 3
What Platforms Can Be Used to Conduct a Virtual Conference?
According to a report from Grand View Research, some of the prominent players in the virtual events market include but are not limited to:
1. Microsoft Corporation Video Conferencing

"Meet, collaborate, and work securely from anywhere."

"Cisco Webex® is still one of the most popular virtual event platforms. Here's how they describe the benefits of their product: "Cisco Webex® Events helps you expand your company meetings and corporate events with real-time online events and webinars to reach more attendees, reduce travel costs, and boost attendance."

With their virtual event platform, you can boost your attendees' interaction with you, sponsors, exhibitors, and each other.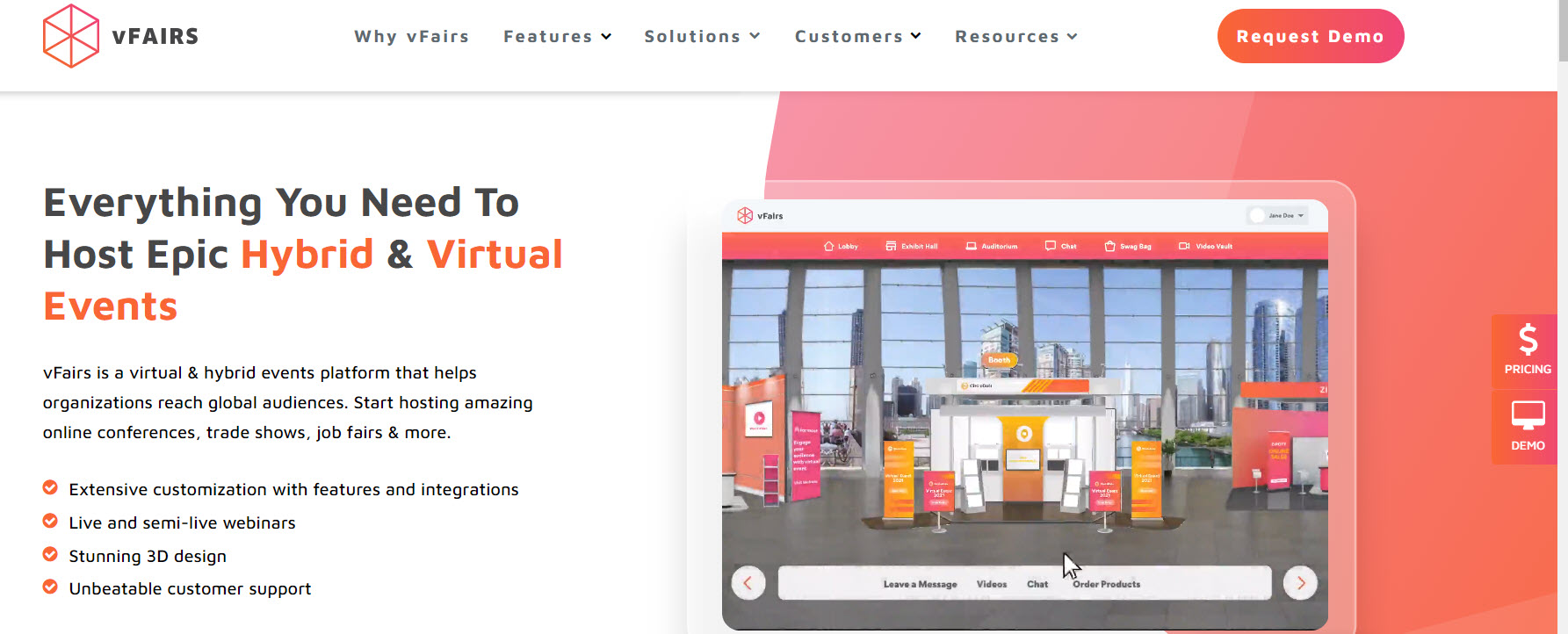 vFAIRS offers 3D visual designs and animations that make you stand out.

Their promise: "EventX is an event management platform that gives you the power to organize, analyze, and host in-person, virtual, or hybrid events staged in dynamic environments."
6. Zoom - Webinars and Events

"Engage new audiences, elevate customer experiences, and get more done together with our all-in-one communications platform," says Zoom. The platform is straightforward and allows up to 100 interactive video panelists.
Two more to check out:
Remo - an interactive virtual event platform that empowers you to grow and engage your audience, humanizing the online event experience.
Bizzabo's Virtual Experience Solution - features such as Q&A, chat, polling, and whiteboard offer various ways for attendees to stay engaged and connected during virtual sessions.
Add-on Tools to Complement Platforms
Whether you are hosting a simple webinar or a full-scale virtual conference, leveraging participatory event tools within, or that work with your platform will allow you to create a more interesting, inclusive environment.
And creating a more inclusive, interactive environment doesn't just mean getting people to participate in your presentation. It also creates opportunities for networking among participants, which is otherwise sorely lacking in virtual conferences.
Bizzabo, which offers a platform to scale your event strategy that includes interactive tools, wrote a comprehensive article on "18 Tools for Hosting a Virtual Event." Here are two examples of add-on tools they recommend:
1. Slido - makes your virtual events interactive. It promotes crowdsourcing to make attendees feel included.
2. Miro - offers a collaborative whiteboard so virtual teams can see brainstorming, meeting notes, and the like in real-time.
Here are a few more resources:
18 Cool Zoom Features You May Not Know About
18 Tools for Hosting a Virtual Event
Chapter 4
Benefits and Drawbacks of Virtual Conferences
There are pros and cons to everything, and virtual conferences are no different. Virtual events offer a cost-effective means to efficiently bring the number of attendees worldwide to a purposeful gathering.
Events can cover a wide range of activities, from video to live streaming and broadcasting.
Let's first discuss the pros...
Benefits
Lowers the price of admission, which improves accessibility
Makes for more cost-effective participation (saves on flights, hotels, etc.)
Offers convenience
Reaches a wider, more diverse, and global audience
Attracts high-demand speakers who usually wouldn't have time to attend in-person
Gives you the ability to record the sessions (use as possible lead generator later on)
Allows you to pre-record a live event session for any of your guests' speakers
Gives you the ability to share the information (on-demand) with your audience when the time is right for them
Provides better data insights (discover which sessions are most popular, practical, and valuable)
And with the good comes the not-so-good...
Drawbacks
You miss out on in-person human connection/interaction during the conference and after hours
Your networking opportunities are limited
You need a stable internet connection
Sometimes you're not just speaking at a virtual conference; you're the one organizing it or hosting a session. In the next section, you'll get some tips on how to plan and produce like a pro.
Chapter 5
How to Run a Virtual Conference
Virtual events take just as much planning as a traditional conference.
Here are some steps to get you started:
Step 1: Define your virtual conference strategy
Think, who is your target audience? Questions to ask:
Who do you want to attend?
What content do you need to prepare for the group?
How long do the sessions need to be?
How will the sessions be formatted? (for example, panel, keynote, video)
How many presenters are there?
How many days will be involved?
What is the overall message and content needed?
You need to have a clear picture of the purpose of your event.
Step 2: Prepare exceptional content that engages your audience
Preparation is key. A mixture of live and pre-recorded content is beneficial. With so much content being offered, think of having your videos on-demand afterwards.
A key takeaway here is the type of content you will offer. Will it be product or service training, research-based, thought leadership, etc.?
Step 3: Pick a virtual platform that meets your needs
With the plethora of technologies at your disposal, pick the platform that meets your desired needs. With virtual conferences, a significant emphasis needs to be given to technology.
cvent states,
"In-person events are 25% tech expenses, 75% non-tech expenses; where virtual events are 75% tech expenses, 25% non-tech expenses."
And that leads us to ...
Smaller sessions are geared more to the interaction that will engage your attendees.
Step 4: Market your virtual conference before and after
All the setup of a virtual conference does you no good if nobody shows up! Make the most of email marketing, leverage social media channels, and ask associates to share with their friends.
Here are a couple of resources to help you with marketing:
12 Must-Know Strategies for Marketing Virtual and Remote Events
Vital Market Steps After Your Virtual Conference
Step 5: Make it an interactive experience
Consider investing in tools to help deliver that exceptional experience your attendees are looking for. You need to provide a full-blown event experience for your attendees wherever they may reside.
Interactive virtual events are great places for people to connect with like-minded individuals and find new business partners.
Step 6: Analyze your results
You'll want to measure a virtual event's ROI and audience impact to determine its success.
Pigeonhole Live outlines 14 Key Performance Indicators (KPIs) that will help you get a good gauge of whether your virtual events were a success. They also provide some tips on how to use data from their insights tool to measure some of the KPIs. 14 KPIs to Measure the Success of Your Virtual Event
Conclusion
Your speech or presentation at a virtual conference can make a big impact—or not. To succeed, you have to know how to speak with authority, engage your audience, and deliver content that is meaningful to them.
I hope you enjoyed this mini-guide to virtual conference speaking.
Now I'd like to hear from you:
Which tip are you going to try first?
Are you going to work on that all-important 5- to 9-word core message I talk about in my video?
Or maybe you want to try the art of storytelling to connect with your audience?
Either way, let me know by leaving a comment below…
Join Us in Conversation . . .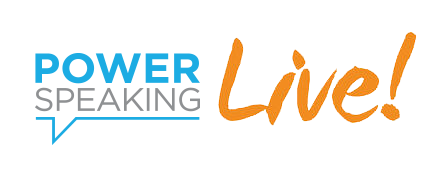 Make the Most of 1:1 Speaker Coaching
Thursday, November 16th, 2023, 9-10:00 a.m. PT/12-1:00 p.m. ET/5-6:00 p.m. BST
Sometimes, the best way to take your speaking and presenting skills to the next level is to enlist the help of an expert coach. Whether you need to improve your delivery style in general or prepare for a specific, high-stakes presentation, a more personalized approach might be just what you need.
In this LIVE! conversation we'll talk about how people can get the most value and lasting impact from 1:1 speaker coaching sessions.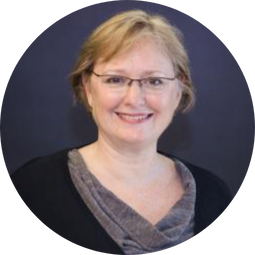 Chris Brannen
Master Facilitator and Coach, PowerSpeaking, Inc.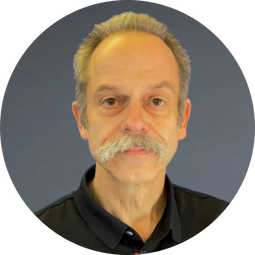 Ralf Wolter
Master Facilitator and Coach, PowerSpeaking, Inc.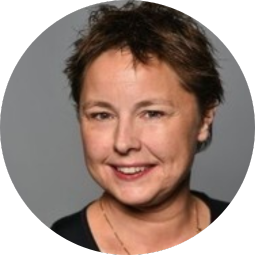 Nicole Wajer
Technical Solutions Architect, Cisco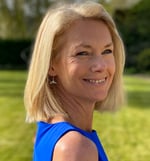 About the Author
Sarah Palmer, Power Speaking, Inc. Director of Business Development, EMEA
After an impressive career in law, as well as sales and marketing in the pharmaceutical industry, Sarah Palmer found her passion in motivational coaching, training, and development. She is PowerSpeaking's European business affiliate extraordinaire. Sarah holds a law degree from Nottingham Trent University, UK and lives outside of London. She is also certified by the International Coaching Federation.