PowerSpeaking, Inc.'s founder, Rick Gilbert, was one of the first in the market to crack the code on how to present successfully to senior executives. Though our research and best practices continue to evolve, the core advice in this 2011 CIO Magazine online remains as true as ever.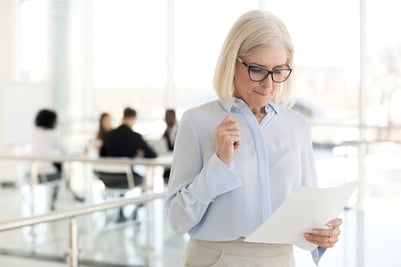 Always: Make your first line your bottom line by telling the executives—in a nutshell—what you are proposing and why, and exactly what you want from them (funding? support for an organizational change? product approval?).
Executives live with unrelenting time pressure, so they want you to get right to the point. Also, live by the 10/30 Rule: if you are scheduled for 30 minutes on the agenda, prepare just 10 minutes of material. The executives will probably hijack the other 20 minutes for questions and comments. In other words, be prepared for a discussion, not a slide-driven lecture. That means slashing the number of slides to two or three (or even zero). But also be sure to have detailed backup slides on hand in case the executives want to do a data dive.
Sometimes it's necessary to get your head in the right place before starting your meeting. You don't want to be going into the boardroom looking for a pat on the back. Surprisingly, many CIOs and even midlevel managers, walk into the executive suite with the need to impress. Senior executives do not want to hear about all of the hard work you and your team did to get the data. They want to be told what the data means relative to your proposal and their decision-making process, and more important, to the success of the company.
Never: Get defensive or argumentative. Having passion for a project or idea is good, but your demeanor should always be calm and open to input. Also, never let the meeting spiral out of control. If the board strays too far from the point, or worse, starts arguing with each other, calmly bring the discussion back on track.
This article was originally published in CIO's online magazine in 2011.
Speaking of presenting to the C-suite, the next offering of our Speaking Up: Presenting to Decision MakersⓇ workshop is coming up: February 20 in Redwood City, California. Learn more about the workshop here:
About the Author:
PowerSpeaking's founder was Frederick Gilbert, PhD. As a former psychologist, corporate training manager, president of the Northern California Chapter of the National Speakers Association, and a long-time Toastmaster, Rick could see the wide-spread need for presentation skills training. He started the company in 1985 with the goal of helping business people build their confidence, and their careers. Rick retired in 2016 after thirty rewarding years helping to grow this remarkable company.