Unproductive meetings account for one-third of the workweek yet according to a Microsoft Office worldwide survey, over 35% of the respondents chose ineffective meetings as one of the biggest, most frustrating time wasters. (How does that match up with your experience?)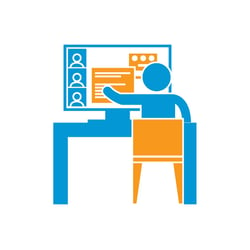 Additionally, many companies have invested in virtual platforms (Adobe Connect, WebEx, GoToMeetings, et al). With many opportunities to check out, the frustration level goes to the stratosphere.
Since rolling out "Achieving Virtual Meeting Success" in 2011, we have conducted our own poll as part of each session. We ask our participants to share the percentage of the time they spend in meetings and the percentage of those meetings that are effective. Over the years the average scores have remained surprisingly consistent:
Time in meetings: 40-60%.

Meetings that are effective: 30-50%
Sadly, if we look at the total number of hours people spend in unproductive meetings and we multiply that percentage by their salaries, the bottom-line financial impact to an organization is substantial. The overall productivity impact to an organization is staggering.
Unfortunately, these types of meetings permeate many organizations. When we ask participants for specific issues with most meetings, again the results are consistent from company to company:
The meeting has no stated purpose or outcome.

The lack of agenda, structure, and roles are not clear.

Off-topic discussions or tangents are allowed.

The use of virtual platform usage is ineffective.

Disruptive behavior and multi-tasking are allowed.

No action items or follow up fall through the cracks.
What does a produtive meeting look like? Participants know immediately. Typically these meetings are focused on a bottom-line impact and are sensitive to productivity and people's time. Productive meetings have a clear purpose and goal. They have an outcome much greater than to "transfer information." Typically, these productive meetings are designed to encourage collaboration, brainstorming, problem resloution, and clearly stated discussions.
So many company meetings have gone virtual. What we've learned is that with a new medium, it requires a new mindset. Meeting leaders need to think differently on how to engage meeting participants in the same level they do face-to-face. From our experience, virtual meetings suffer when the meeting leader:
Does not understand how to leverage the technology.

Does not know how to use it effectively to maintain engagement and interactivity.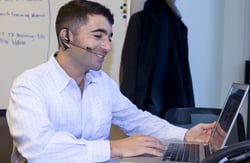 These are just a few of the issues we address with tips and strategies we practice in the "Achieving Virtual Meeting Success" virtual or live program. We are quick to point out that while these tips and techniques may appear common sense, our ultimate goal is to turn "Common Sense into Common Practice."
Here are PowerSpeaking's Top 5 Virtual Tips to ensure that your next virtual meeting is a success:
Define expectations of behavior once in the meeting: Explain how you will run the meeting, how people can participate, and what your expectations are around multi-tasking and participation.

Understand and leverage your virtual platform: Regardless of the platform, there are common features that can increase overall engagement and experience.

Have a clear and thorough agenda: A thorough agenda states your purpose and outcome, logistics, topics, timing and topic leaders.

Know and communicate the why and what of your meeting: Be clear WHY you are holding a meeting and WHAT you want as an outcome. Think about the bottom-line impact of the organization for having this meeting. (State this at the top of your agenda.)
About the Author
PowerSpeaking, Inc.